Ukraine's alternative medical budgeting via social media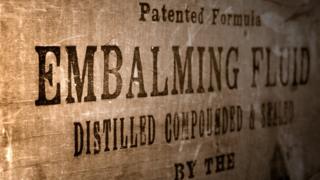 A member of the Ukraine government has started an online debate after asking her Facebook followers to choose between re-embalming the body of a famous scientist or spending public funds to buy medicine.
Acting health minister Dr Ulana Suprun posted the poll on her Facebook page. More than 8,000 users took part in her poll within the first 24 hours, with 71% preferring to buy medicines rather than the re-embalmment of 19th Century anatomist and inventor Mykola Pyrohov.
Pyrohov was a prominent scientist and pioneer of surgery. He spent the last years of his life near the city of Vinnytsya, in central Ukraine.
His embalmed body has been in the Pyrohov Museum in Vinnytsya for the last 135 years, but needs to be re-embalmed.
Pyrohov's body is preserved using embalming techniques which he himself developed. Unlike many other displayed corpses, such as Vladimir Lenin's, which needs regular maintenance, Pyrohov's body remained untouched and unchanging at room temperature in a glass-lid coffin until recently.
Dr Suprun said the museum asked the government to approve the re-embalmment and provide 200,000 hryvnyas (£5,000 or $7,200) toward the procedure.
She suggested the money could be spent more wisely and asked Facebook users to share their thoughts.
Vinnytsya Mayor Serhiy Morhunov was outraged by Suprun's post.
He wrote on his Facebook page: "How can a question be raised in this way at all: either medicines or the re-embalmment of the body of the founder of military surgery?!
"Mykola Pyrohov is our national heritage in the history of world medicine. We will find the money, you should not have even the slightest doubt!
"You'd better find experts who will be able to carry out this procedure professionally."
You might also like:
Although the majority who have voted in the poll so far are in favour of spending state funds on medicine, many public replies were critical of Dr Suprun.
Commenting beneath the poll, one Facebook user in favour of the re-emabalming said the minister was "appealing to pity and emotions," while another called the poll "a very cheap manipulation".
Another user defended the minister by saying: "May they carry on with the re-embalmment, but not at the expense of the state budget."
"200,000 hryvnyas. Is this such a big sum to start manipulating public opinion? I fully support and promote your medical reform and your work, which I see as progressive, though I am not a doctor. But in this case, I do not understand you," said another Facebook poster.
Ulyana Suprun later published a new post saying that she was "impressed by the civic position" of Vinnytsya residents and thanked all those who joined the debate.
Most public hospitals in Ukraine are widely believed to be in a dire state, with corruption seen as the main reason.
Suprun has managed to convince the government to approve wide-ranging reforms. Her plans are now being gradually implemented.
Although public opinion suggests the current health system needs to be improved, many in Ukraine fear Dr Suprun's reforms may make healthcare unaffordable.