Residents left with no heating in -27C cold snap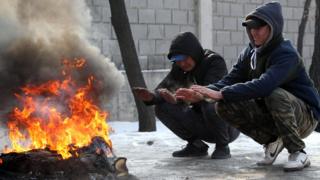 Calls for heads to roll are rising in a city where 15 people have died of hypothermia and a million have been struggling to keep warm in -27C after being left without heating or electricity.
Residents in Bishkek, the capital city of Kyrgyzstan, were left without basic heating after the boiler broke down in the main power station last week.
Temperatures plummeted so low that 15 homeless people are reported to have died of the cold in just a matter of days.
People were battling with freezing conditions inside their homes too after the initial main boiler failure triggered a knock-on effect around the city.
Offices and public buildings were closed and schools and universities cancelled classes.
The power station boiler has now been repaired and outdoor conditions are getting a bit warmer too but the demand for accountability has continued on social media.
You might also like:
Some residents are calling for Prime Minister Sapar Isakov's resignation, while others are defending him.
"That is right. Let him resign, along with the director of the heating station," one of his critics said.
But another defended him writing: "He has just started working and is not directly responsible for the heating power station's operation. The minister for that sector should be sacked and the mayor of Bishkek should be somehow punished too."
MPs and other officials have come under attack too.
"And the deputies - hard-working people - should keep their posts. Do they think so?" one Facebook user wrote sarcastically. "We have lived and continue to get by without MPs.
"Isakov is no working like other people in authority," another agreed.
A popular video was posted by a national energy company on Facebook in which an engineer explained more about the crisis. Many comments praised him for his knowledge but continued to criticise the station management and government ministers.
A user person wrote: "Why don't the directors of the station explain themselves? Are they hiding behind ordinary workers, who know matters better?"