The 'ironic' question of Nigerian writing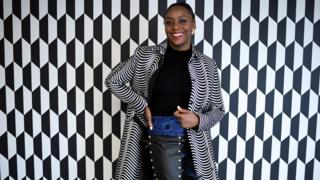 Thousands of people across social media have been posting about Nigeria's literary heritage after a journalist asked acclaimed writer Chimamanda Ngozi Adichie if there were any bookshops in her country.
People have tweeted about the author more than 16,000 times since the question was asked in a public interview on Thursday evening in Paris.
A response on Friday posted by Adichie on her Facebook page has drawn a further 13,000 reactions and more than a thousand comments, and been shared over 3,000 times across the social networking site.
The interview - part of the Night Of Ideas event, a French government-backed initiative - was broadcast on Twitter and Facebook by the French Ministry of Foreign Affairs, and has been viewed nearly 38,000 times.
Journalist Caroline Broue asked Adichie if people read her books in Nigeria. Adichie replied, "They do, shockingly."
Broue then asked: "Are there any bookshops in Nigeria?"
Broue added news in France about Nigeria was dominated by stories of Boko Haram and violence, and the bookshop question was an invitation for Adichie to talk about a different aspect of her country.
The author of Americanah and Purple Hibiscus replied: "I think it reflects very poorly on French people that you have to ask me that question.
"My books are read in Nigeria. They are studied in schools. Not just Nigeria, across the continent in Africa."
You might also like:
Some people took to Twitter to provide figures on libraries and bookshops across Nigeria.
Others praised the author's reply and criticised the journalist's questions, but acknowledged the "reality" of the perception of Nigeria.
Some wished to remind people of Nigeria's literary heritage, by citing writers and poets such as Wole Soyinka, Chinua Achebe and Ben Okri.
In 1986, Soyinka was the first African to be awarded the Nobel prize for literature. Achebe won the Man Booker International Prize in 2007, beating writers including Ian McEwan and Salman Rushide.
However, some respondents thought such writers were not being read enough in their home country.
In her Facebook post the day after the interview, Adichie said Broue was "trying to be ironic," which had not worked, and wished that the journalist "would not be publicly pilloried."
She added: "I am a Nigerian writer whose early education was in Nigeria. It is reasonable to expect that Nigeria has at least one bookshop, since my books are read there."