Iranians compare Shah's regime with clerics'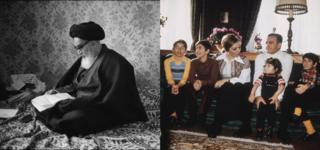 In light of the recent anti-establishment protests in Iran, Persian speakers on Twitter are comparing political, economic and social issues before and after the 1979 revolution which changed the nation's political system from a pro-Western monarchy to an Islamic republic.
The hashtag #What_we_gave_vs_what_we_got was initially started by pro-opposition users to highlight what they deemed a slump in the country's international standing and economic well-being.
But pro-establishment users have since hit back, questioning the statistics provided by critics and putting forward achievements made in the last three decades.
You might also like:
The hashtag has been used more than 25,000 times since Tuesday. Of those few tweets with their location tagged or verified, most were coming from in or near Iran, with a fair share from countries such as the US, the UK and Germany, which have large Iranian communities.
As Twitter is officially blocked in the country, most Iranians use virtual private networks or software which bypasses state filters to access the internet on their computers and smartphones while obscuring their location.
The Iranian Revolution
Following a CIA-orchestrated coup in 1953 which ousted Iran's democratically-elected prime minister Mohammad Mossadegh, Shah Mohammad Reza Pahlavi assumed absolute power and became a close ally of the US and Western powers. He was ousted in an uprising in 1979 by the late Ayatollah Ruhollah Khomeini, who established and led the Islamic Republic of Iran as its supreme leader.
The US severed all diplomatic ties with Tehran after the Iranian hostage crisis, and Iran's rulers adopted an increasingly anti-Western foreign policy which led to a raft of international sanctions.
After Khomeini's death in 1989, Ali Khamenei - who was the country's president at the time - became the supreme leader.
The country was rocked by a wave of protests over economic hardship and lack of civil liberties earlier this month, the largest of such demonstrations since the Green Movement in 2009.
Although the authorities have managed to control the protests, Iranians are increasingly questioning whether their lives have been improved after nearly four decades of rule by clerics.
While critics believe social freedoms and living conditions have worsened in recent decades, supporters of the Islamic republic point to national elections and rises in literacy and welfare programmes.
Vahid Yaminpour, a hardline TV presenter, referred to a comment allegedly made by Ayatollah Khomeini about the then King of Jordan Hussein bin Talal.
"They told him the king of Jordan had sent a message. He said: 'Another king? He must go too.'"
Pouria Zeraati, a journalist who works for the London-based Manoto channel, compared the state of a casino his hometown Babolsar, pre- and post-revolution.
"My hometown Babolsar's casino; before and after the Islamic revolution," he tweeted.
A user based in Tehran compared the appearance of Iranian women under the Shah to the mandatory hijab. Shortly after the revolution, women were forced to cover their hair according to Islamic law on modesty, and to wear knee-length over shirts.
"Our streets before and after the revolution," he said.
A conservative user in the city of Shiraz made a comparison between the Shah kissing the hand of the former Queen of Denmark and Ayatollah Khamenei helping farmers, saying: "We gave humiliation and got dignity."
But the discussion has now given way to users expressing their wishes for their country's future.
#I_have_a_dream, which refers to Martin Luther King's iconic speech in Washington DC in 1963, is a hashtag used more than 14,000 times by opposition groups since Thursday.
One user tweeted: "This is my dream: For all of us to live freely together and love one another regardless of creed, views and choice of clothes."