Semi-naked Russian cadets spark 'Satisfaction Challenge'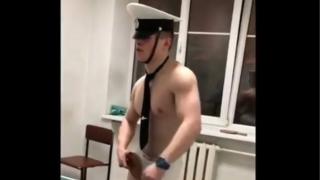 A controversial online video of Russian air cadets dancing in their underwear has spurred other people to film similar clips, with millions of views and hundreds of thousands of shares on social media.
The craze has been dubbed the 'Satisfaction Challenge' as the videos, like those of the original cadets, all feature people dancing along - in various degrees of undress - to dance hit Satisfaction by Benny Benassi.
Russia's Air Transport Agency had at first condemned the behaviour of the cadets, who were threatened with expulsion from Ulyanovsk Institute of Civil Aviation, but the authorities softened their stance after thousands defended the young men online and posted their own videos.
One clip of Petersburg pensioners dancing has been viewed over 300,000 times since publication on YouTube on 21 January.
Reaction has been mixed. Some are unimpressed but others sing the praises of the "chic grannies".
Meanwhile a video female biathletes, clad in training gear, helmets and glasses dancing around their dormitory and gym, has gained over 350,000 views.
Ukrainian swimmers showed their support with a video featuring an underwater sequence, and grooms in their stables have had more than 290,000 views on Russian social media network VKontakte.
Other groups posting videos either in support for the Ulyanovsk cadets, or just as part of the Satisfaction Challenge, have ranged from treasure hunters to welders from the Urals, to mothers, students, Emergency Ministry workers, a clothes factory, and a Kalingrad naval fishing-industry college.
You might also like:
However, not everybody is impressed.
Rossiya 1 - a key state TV channel - called the air school cadets who recorded the original video "silly".
Kremlin cadets responded by producing their own video, complete with training footage, parades and serious addresses to the camera from military students.
"Are you really our Motherland's worthy officers?" one asked of the Ulyanovsk air cadets. "Are you the people we've entrusted our peaceful skies to?
"Are you picking up European dirt, forgetting about military feats? About fathers who fought for Russian lands?"
The Kremlin cadets' video has been viewed over 150,000 times. Some comments asked if the cadets were forced to speak out, while others welcomed the Kremlin production.
"Guys, keep it up! Be worthy citizens of your Motherland," read one response.
Although the Ulyanovsk cadets are not facing expulsion, according to Russia's NTV, an investigation carried out by prosecutors concluded their teachers should be disciplined.