Syrian shoe-shine refugee photo wins Turkish hearts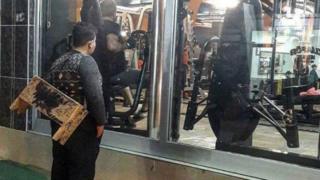 For many, joining a gym in January is an annual ritual. However, for one young Syrian refugee in Turkey a poignant viral photograph has resulted in a free lifetime membership.
In the photo 12-year-old Muhammet Hussein is seen gazing through the window of the Olimpiyat Sports Center.
Social media users were touched by the image, commenting on the equipment strapped the the young boy's back and the fact that he was wearing sandals in the middle of winter.
You may also like:
Omer Yavuz, who took the photograph, said he posted it online because he wanted to highlight the young boy's circumstances.
Speaking to the BBC, Mr Yavuz said: "I wanted people to see Muhammet with sandals on his feet in the cold."
"I couldn't sleep that night, because I couldn't stop thinking about his situation."
Mustafa Kucukkaya, one of the gym's owners, posted the photo on Instagram saying staff at the business were "very moved" by the image and asked people to help them to get in contact with him.
"If you know this brother, please introduce us. The gym is free of charge for our brother for life."
Mr Kucukkaya later shared a snap of staff with Muhammet, revealing that they had tracked him down.
"We found our brother. Thank god, we kept our promise of providing him with a lifelong membership."
The news that Muhammet had been found and was now attending the gym delighted social media users.
Sharing a photograph of the boy with Engin Dogan, another of the gym's owners, one user said "There are good souls in every other corner of the homeland. You are beautiful, this homeland is beautiful."
Many praised the act of kindness towards the young boy from Syria.
Turkey has received millions of Syrian refugees since the outbreak of war that forced many to leave their homes. The Adiyaman Merkez refugee camp, on the outskirts of the city where the gym is based, is currently home to over 10,000 refugees from Syria.
While some questioned the motives of the gym, asserting the membership offer might be a PR stunt, most agreed the move was still positive.
Speaking to Turkish news website Hurriyet Daily News, Muhammet said he was "very happy" to be able to attend the gym and grateful to the staff for helping him work out.