Outrage as Iranian wrestler 'forced' to lose match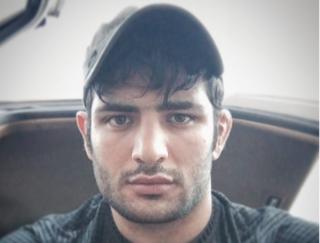 Iranians are calling foul on social media after an Iranian wrestler appeared to deliberately lose a match on Saturday to avoid facing an Israeli opponent in the 86kg category of the Senior U23 World Championship in Poland.
Although leading 3-2 in the fourth minute, freestyle wrestler Alireza Karimi-Machiani crashed out of his match against Russia's Alikhan Zhabrailov after appearing to receive instructions to lose, rather than face Israel's Uri Kalashnikov in the next round.
Iran does not recognise the state of Israel and forbids its athletes from competing against Israelis at international sports events.
Iranians reacted with outrage on social media, sharing footage of the match.
In one clip, a man's voice, suspected by observers to be Karimi-Machiani's trainer, can be heard saying "lose Alireza", as the Iranian is winning. The trainer then stops the match to speak privately with the wrestler who then returns to lose the match 3-14.
You might also like:
More than 5,000 tweets were sent following the match with hashtags which translate as #lose_alireza, #I_am_telling_you_to_lose, and #you_must_lose.
"I feel that Alireza Karimi's trainer intentionally shouted 'Alireza lose', 'you need to lose', 'you must lose'. This was a sign for us to see the dirty people behind the curtain of his defeat. We needed to see how the dirty politics of a group of dirty people caused your efforts to be blown away with the wind," one Twitter user @persianhuman commented.
It's not the first time the region's politics have clashed with sport: At the 2016 Olympic Games, Lebanese athletes refused to share a bus with the Israel team.
Also in the Rio Games, Egyptian Islam El Shehaby was booed by the crowd after refusing to shake hands with Israeli opponent Os Sasson.
But in August this year, two Iranian footballers disregarded the ban by playing against Israeli opposition for their Greek football teams.
After his defeat, Karimi-Machiani, who won a bronze medal in the 2015 World Championships, posted a video on Instagram of him walking through a city at night listening to a song by Iranian singer Dariush Eqbali singing, "Silence is the last stronghold; you cannot take away our right".
More than 6,000 people commented on the post. Most were sympathetic, but some criticised the wrestler for not challenging the order to lose the match.
"I am very sad for this clip and injustice against our champion. Death to the dictator!" replied @davod.ahmadi23.
"You were wrong, Karimi. You accepted defeat without imposing any cost against the main reasons behind your defeat. You just became their pawn," @gh_shahraki commented.
Zhabrailov went on to beat Kalashnikov in the quarter-finals before winning the tournament, although Kalashnikov eventually took bronze following a repechage round.
Additional reporting by BBC Monitoring