Turkmenator 2: The cult of personality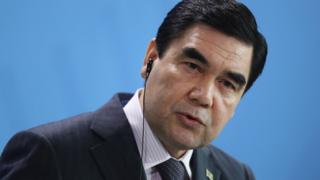 How do you manage your public image if you're the autocratic leader of a state Human Rights Watch describes as "among the world's most repressive and closed countries"?
If you're Turkmenistan President Kurbanguly Berdymukhamedov, part of the answer, it seems, lies in appearing on a state television channel playing basketball while riding a bicycle. Obviously.
President Berdymukhamedov, a former dentist, has previously appeared on state television showing off his prowess with a range of weapons, spawning an opposition parody video using footage from the Arnold Schwarzenegger film Commando and birthing the nickname "The Turkmenator".
You might also like:
In an opposition video, President Berdymukhamedov can be seen dribbling a basketball around a gym on a bike before shooting several baskets from the saddle.
Senior security officials - trying to replicate the 60-year-old president's exploits on foot - are then seen missing the hoop, in footage originally aired on Turkmen state TV and edited by the opposition website Hronikatm.com.
President Berdymukhamedov also appears to be showing an official how to lift weights.
The footage was uploaded to Facebook on Wednesday, where it has attracted more than 20,000 views, generating significant discussion and drawing comparisons with North Korean leader Kim Jong-un and former Iraqi dictator Saddam Hussein.
"Not a president but a fairy tale," one user wrote. "One recalls that Saddam Hussein also swam through the Euphrates and messed around with a golden assault rifle."
Others were less critical.
"Cycle ball - a new type of sport," one social media user said.
"A dentist training law enforcers. Praiseworthy, respect," wrote another.
President Berdymukhamedov has ruled Turkmenistan since 2007, when he succeeded life-long president Saparmyrat Niyazov. Like Niyazov, who erected a giant gold-plated statue of himself, President Berdymukhamedov has built a cult of personality. And in 2015, Berdymukhamedov unveiled a golden statue of his own.
In 2016, a new draft constitution in Turkmenistan was approved which would enable the president to serve for life, soon after President Berdymukhamedov was sworn in for a third consecutive term in February 2017.
President Berdymukhamedov's image is closely controlled. The Turkmen government operates a monopoly over the media and the state controls internet access.
During his tenure, he has been shown on state TV channels acting as a DJ, driving military vehicles, piloting a fighter plane and playing the guitar and singing.
In a rare slip, President Berdymukhamedov fell off his horse in a 2013 race he had already won. Despite this bodyguards searched the crowd watching to check attendees had no footage of the fall. Footage emerged nonetheless.