NHS appeal for black blood donors 'drops straight knowledge'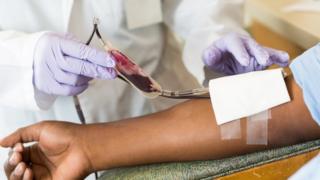 NHS Blood and Transplant has posted an appeal for more black people to donate blood, while heading off possible accusations of racism, with a series of gif-laden tweets.
"So, people keep asking - why do we need more black blood donors?" asked @GiveBloodNHS in an initial post.
"Are we being racist? ...Let's break it down," the account replied in a follow-up thread explaining the need for black blood donation.
Using a string of references from Sinbad, to Ellen DeGeneres, to Bill Nye, the GiveBlood social media team explained the universality of blood, the exceptional need for different blood groups, and the prevalence of different groups in different races.
Particularly, black people are more likely to have the rare Ro blood subtype, which only one in 50 people have, and which is used in the management of sickle cell disesase.
Sickle cell disease is a life-threatening genetic condition which is more common in black people. US Rap singer Prodigy, from hip-hop duo Mobb Deep, died aged 42 in June 2017 and had been suffering from sickle cell anaemia.
The appeal has been praised by many, including the MOBO awards, who replied, "This thread is everything".
Beauty, fashion and travel blogger @Kiki_BlahBLah was also impressed and the Black Girl Bible called it a "life-giving thread":
Another fan said @GiveBloodNHS was "dropping straight knowledge".
Meanwhile, arryhythmia nurse specialist Paul has his "utmost respect" for the team behind the thread.
You might also like:
This isn't the first time that NHS blood and transplant account has been praised for its reaction on Twitter.
When one user posted a racist remark on its appeal for more black donors to help black people with sickle cell disease, the reply from @GiveBloodNHS was liked 28,000 times and welcomed by many people offering to donate blood.
The account has also made a point of appealing to people through pop culture.
In the past two weeks, the account has retweeted TV presenter Rachel Riley and Hollyoaks. It has posted about its song of the day (Man's Not Hot by Big Shaq) and its thoughts on Blue Planet 2. All the while using gifs of Elmo, Britney Spears, Neil deGrasse Tyson, Conan O'Brien, The Office and Hunger Games to raise awareness.