Sebastian Gorka: 'Pence rule on women would prevent abuse'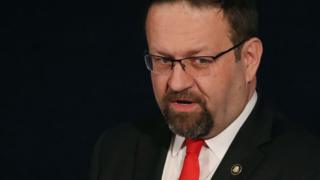 Former White House adviser Sebastian Gorka has weighed in on the sexual harassment and abuse allegations enveloping the US film producer Harvey Weinstein.
The influential Hollywood producer is accused of sexual harassment and rape. He denies any allegations of non-consensual sex.
Mr Gorka suggested Vice President Mike Pence's own rules about meeting with the opposite sex could prevent women from being abused.
A fierce debate raged online earlier this year after reports emerged of the vice president's refusal to dine one-on-one with any woman who is not his wife.
"Think," Mr Gorka tweeted. "If Weinstein had obeyed Vice President Pence's rules for meeting with the opposite sex, none of those poor women would ever have been abused."
His comments were shared widely, attracting thousands of likes and retweets on Twitter.
Not everyone was convinced by his argument, however, and many adopted the style of Mr Gorka's tweet to voice their opposition.
Jess Dweck, a writer on late-night talk show The Tonight Show, was among those social media users who responded to Mr Gorka's comments.
"Think," she said. "If men didn't rape women, women wouldn't be raped by men."
Others suggested Mr Gorka had failed to follow his own advice.
CNN producer David Daniel said Mr Gorka had blocked him on Twitter after he asked if Mr Gorka followed the rule himself.
Elsewhere, there was also support for Mr Gorka's sentiments online.
One supporter, accepting Mr Gorka's premise, said: "I recall how the left mocked the vice president. Do the left ever get it right, ever?"
"Just think," another said: "A couple of weeks ago the Hollywood elites were saying Harvey Weinstein was a great man and Mike Pence was a Neanderthal."
Earlier, some conservative social media users decried what they see as "liberal hypocrisy" in the response to the allegations against Harvey Weinstein.