Donna Karan defends Weinstein, suggests women 'asking for it'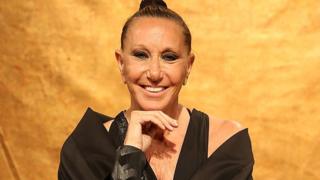 Fashion designer Donna Karan has defended Harvey Weinstein, who was fired from his own movie company following accusations of sexual harassment spanning several decades.
Speaking on Sunday, the designer suggested women could be "asking for it by presenting all the sensuality and all the sexuality".
Her comments have provoked a furious response on social media.
Actress Rose McGowan, who is reportedly among the film producer's alleged victims, condemned the remarks.
"Donna Karan you are a deplorable," she tweeted. "Aiding and abetting is a moral crime. You are scum in a fancy dress."
Karan later said her comments, recorded and published in the Daily Mail, were taken "out of context".
She was attending the CineFashion Film Awards in Los Angeles when a red carpet reporter asked her view of the allegations against the former Miramax boss.
"I think we have to look at ourselves," she said.
"Obviously, the treatment of women all over the world is something that has always had to be identified.
"Certainly in the country of Haiti where I work, in Africa, in the developing world, it's been a hard time for women.
"To see it here in our own country is very difficult, but I also think how do we display ourselves? How do we present ourselves as women?
"What are we asking? Are we asking for it by presenting all the sensuality and all the sexuality?"
Meryl Streep and Dame Judi Dench are among noted Hollywood stars to have spoken out against the movie producer already, but Karan came to his defence.
"I don't think we're only looking at him," she said. "I think we're looking at a world much deeper than that."
"I know his wife, I think they're wonderful people, Harvey has done some amazing things."
You may also like:
Many social media users called for a boycott of the Donna Karan fashion brand - although Karan is no longer the chief designer for her brand - including actress and campaigner Mia Farrow.
The phrase "Donna Karan" has been among the top global Twitter trends, used tens of thousands of times on the social media platform since the news broke.
Actress Sarah Wynter suggested the fashion designer had ruined "any chance of her being respected as a champion of women's causes ever again".
In a statement, Karan apologised.
"While answering a question on the red carpet I made a statement that unfortunately is not representative of how I feel or what I believe," she said.
"My statements were taken out of context and do not represent how I feel about the current situation concerning Harvey Weinstein.
"I believe that sexual harassment is not acceptable and this is an issue that must be addressed once and for all regardless of the individual.
"I am truly sorry to anyone that I offended and everyone that has ever been a victim."