Iranian football referee under fire as Syrians celebrate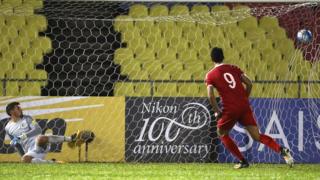 There are few penalties awarded in the dying stages of a crucial game that are met without any degree of controversy among football fans.
But when one of the teams playing is in the midst of a civil war and the referee officiating comes from a country supporting one side of that conflict, the potential for controversy is heightened further still.
Syria's hopes of qualifying for the World Cup in Russia in 2018 are still intact after drawing with Australia.
The World Cup qualifying playoff staged in Malaysia - as Syria are unable to play matches at home - finished 1-1 after a contentious 85th-minute penalty allowed Syrian striker Omar Al Somah to equalise.
Fans of the Syrian football team were understandably overjoyed.
"This is possibly one of the matches I loved most. Professional playing and Syrian people cheering from their hearts," one fan commented on Facebook.
But Iranian referee Alireza Faghani's late decision infuriated several Australia players and has generated significant discussion online.
"It was evident to everyone it wasn't a penalty," Australian forward Robbie Kruse told the Sydney Morning Herald. His 40th-minute finish from close range had earlier handed Australia the advantage in the two-legged tie.
You might also like:
Some social media users in Iran were quick to link the decision with their country's support of Syrian President Bashar al-Assad's regime.
There is no evidence of any deliberate wrongdoing on the part of the referee or anyone else.
"Faghani is the real defender of shrines," one social media user commented, attributing to the referee a title given by the Islamic Revolution Guards Corps to its fighters in Syria.
"With the penalty he called for Syria, Faghani will get a medal of honour from the Supreme Leader," another tweeted.
Australian football writer Paul Williams was unconvinced.
"The penalty was soft no doubt," he tweeted. "But are we really questioning the integrity of one of the best refs in Asia?"
Many Syrian fans agreed.
"It was the best game in Syria's history," one posted on Facebook. "The Australian team is complaining for nothing. The game should have ended with three goals for Syria."
Syria's fans will be hoping they can upset the odds when the second leg kicks off in Sydney, Australia on Tuesday 10 October. The winners will advance to a final playoff match with the chance to win a place at next year's World Cup finals.
Additional reporting by BBC Monitoring