Taj Mahal left out of an Indian tourism booklet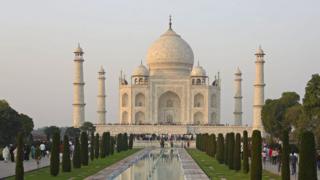 The Taj Mahal has been controversially excluded from an Uttar Pradesh tourism booklet.
The booklet, issued by the tourism department, was not intended to be a promotional brochure, but the omission of one of the seven wonders of the modern world has nonetheless sparked anger and bemusement.
Journalists, politicians and activists were among those who took to social media to decry the 17th Century mausoleum's absence.
The popular tourist attraction, located in the Agra district of Uttar Pradesh, has been mentioned on Twitter more than 12,000 times in the last 24 hours.
The booklet has been released six months into Hindu nationalist Yogi Adityanath's tenure as chief minister of India's most populous state.
It details ongoing and future tourism projects and mentions a number of famous tourist destinations, including a temple in Gorakhpur where Mr Adityanath is the main priest.
But Mr Adityanath's views on the Taj Mahal have previously been questioned. In June, he reportedly said the monument "did not reflect Indian culture".
The Taj Mahal was built by the Muslim Mughal Emperor Shah Jahan in memory of his favourite wife Mumtaz Mahal.
"Taj Mahal is no longer a tourist destination. Unesco should declare Yogi Adityanath's Gaushala (cow shelter) in Gorakhpur as a world heritage site," journalist Prerna Bakshi tweeted.
"The Yogi government has defamed our country's heritage by removing Taj Mahal from [the] tourism list," YouTuber Dhruv Rathee said. "Would be a butt of all jokes in international media".
"Absolutely foolish of Yogi Adityanath to create a controversy around Taj Mahal," said academic and writer Madhu Kishwar. "Such political immaturity doesn't behove a CM [chief minister]."
You might also like:
Avanish Awasthi, an Uttar Pradesh tourism department official, clarified the regional government's position.
"The booklet was released only for the purposes of a press conference and is not a guide to Uttar Pradesh's tourism spots," he told NDTV. "It mentions new and upcoming projects of the Uttar Pradesh tourism department, and new focus areas."
In a series of tweets, the official Utter Pradesh government account claimed that money has also been set aside to fund development proposals for the Taj Mahal.