Hurricane Irma: Not everybody falls for fake news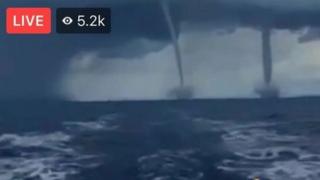 Fake news has come hand-in-hand with Hurricane Irma - yesterday even the White House fell for it.
Incorrect scientific information, fake Facebook lives, and old footage claiming to show Hurricane Irma have been circulating online for almost two weeks.
Some were clearly hoaxes, while others appear to be based on genuine misunderstandings. The Federal Emergency Management Agency even created and tweeted their own 'rumour control' list to help people verify information.
But not everyone has been duped.
White House rumours
On Sunday Mr Scavino - US President Donald Trump's director of social media at the White House - tweeted videos and pictures showing the impact of Irma on Florida.
He said he was showing them to President Trump and Vice-President Mike Pence, including a striking image claiming to show Miami International Airport underwater.
Within minutes of posting, the airport corrected Mr Scavino, tweeting "this video is not from Miami International Airport."
Mr Scavino later deleted his tweet, thanking the airport for the correction.
Dishwasher valuables
People have been sharing tips on coping with hurricane flooding, including advising people to store their valuables in their dishwashers in the belief such machines would be waterproof. Some residents directly affected by Irma shared the advice, but some social media users doubted its wisdom.
Fox Sports reporter Kristen Hewitt suggested in a blog post and Facebook live video on 5 September that the dishwasher is a "great waterproof safe in case of emergency" for important documents.
The same advice was also circulated in a top tips list on Twitter on 5 and 6 September.
The advice was posted on Facebook groups set up by those affected by the hurricane, including in the British Virgin Islands where Irma caused widespread devastation.
Some residents appeared to take the advice. "A fabulous idea, thanks so much," one person replied, while another commented "good idea".
A Facebook post sharing pictures of document folders and wedding photos stacked inside dishwasher trays was shared more than 1.2m times, but many users were sceptical.
"Keep reading that this is a bad idea," commented Facebook user Jennifer Johnson Roach, and others shared an article by fact-checking website Snopes which advised against the practice.
Richard Branson assaulted by looters?
On Monday morning, fake reports circulated of British billionaire Sir Richard Branson having been assaulted following a robbery by looters at his home in the British Virgin Islands.
The report was published on a website with URL houstonchronicle-tv.com, appearing to pose as regional US newspaper the Houston Chronicle (but when users click on the article the site is called Houston News). The story uses photographs of Sir Richard from a bike crash in August 2016.
"Very disturbing news, we wish him speedy recovery," one Facebook user wrote.
But another replied "more fake news," and a third person posted a link to the 2016 news story.
You may also like:
Fake videos
Social media users have also been quick to debunk videos around the hurricane.
When the river surged in to downtown Miami - that many people caught on video and correctly described - several posts wrongly claimed the footage showed flooded roads in the city.
"That is not the road! That is the bay! It is the water! I grew up there," replied @MagnoliaEmporia to one such post.
The same footage was shared more than 2,500 times but was debunked within an hour on Sunday when shared by @FreeMindcouk. Many of the comments pointed out it was misleading.
A Facebook Live video shared and watched over 500,000 times on Saturday from Facebook page The Best American Offers claimed to show a double tornado approaching Florida. "Hurricane Irma approaches," it warned.
However the video dates from at least 2007. and appears to be of a storm near the Isle of Elba, in the Mediterranean Sea, in 2006.
"This is a fake news page," one user warned. But others said the video made them fear the arrival of the hurricane in Florida.
What you can do to check for fake news
So whether you read, repeat or repost news, here are some questions to ask yourself:
Have I heard of the publisher before?
Is this the source I think it is, or does it sound a bit like them?
Can I point to where this happened on a map?
Has this been reported elsewhere?
Is there more than one piece of evidence for this claim?
Could this be something else?