Homoerotic images flood 'Moggmentum' tag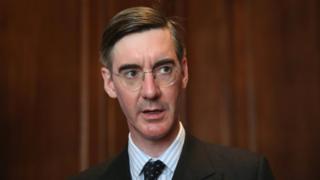 Same-sex marriage proponents have hijacked a hashtag that had been previously been used by youth supporters of Conservative MP Jacob Rees-Mogg, after he spoke of his opposition to gay marriage.
The tag "Moggmentum" had been previously been used by supporters, mostly young Conservative Twitter users, to tout Rees-Mogg as the next Prime Minister.
However that changed on Wednesday following an interview with breakfast television programme Good Morning Britain when Rees-Mogg expressed his opposition to gay marriage. He also said that abortion was "morally indefensible" in all cases, including rape.
His opponents then began to flood the hashtag with animated GIFs of same-sex couples kissing.
Actor and writer Alex Andreou kicked off the trend, when he posted the below tweet along with a video of two men kissing:
Aside from gifs of actors, same-sex couples also shared personal photos of their own weddings.
---
You might also be interested in:
---
Rees-Mogg, who has six children, has found himself in hot water for his social attitudes before - for instance, when he said he had never changed a nappy.
Despite being called an "MP for the 18th century" by his peers, Rees-Mogg has earned himself a cult following on social media. The MP had not reacted to the hashtag battle as of Thursday evening.
Blog by Megha Mohan
You can follow BBC Trending on Twitter @BBCtrending, and find us on Facebook.