Swedish security guard Abu Kevin delights Arab world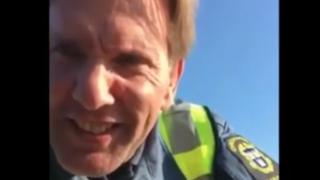 We all know the feeling - you're abroad, people are speaking a foreign language, and out of the blue something reminds you of home.
For one Iraqi man in Sweden that encounter was with a man called Abu Kevin - and Arab social media have fallen in love with him.
Abu Kevin is a Swedish security guard who happens to speak fluent Arabic and was filmed speaking with an Iraqi driver at an unidentified checkpoint in Sweden.
The driver started speaking with the security guard , known also as Kalle, in Arabic, asking "You're Swedish? Are you really Swedish, originally?"
"Yes I'm originally Swedish," Abu Kevin confirmed.
"How did this happen? How did you learn Arabic?," the driver asked.
Abu Kevin, which means father of Kevin in English according to a patronymic naming convention traditional in the Middle East, explained that he is married to a Syrian woman and has two children, Kevin and Sandy.
"I love speaking Arabic, I learned from watching TV," he continued, mentioning a famous Syrian TV series "Ghawwar Toshe".
He also showed the driver the names in Arabic of his children tattooed on his arm.
The video has been viewed almost 850,000 times on Facebook and shared more than 5,000 times since it was posted last weekend.
Many of comments are from Arab social media users delighted by the idea of running into an Arabic-speaking security guard in Sweden.
---
You might also like:
---
Many were amused by the combination of Arabic and English names, writing simply 'Abu Kevin' with laughing emojis.
Some took the opportunity to reflect on their own language skills.
"Swedes learn Arabic, and all we know are 10 words of Swedish," said Aziz Ali.
While Mohammad Nour Nour joked: "They lost hope in us learning Swedish so they learned Arabic!"
Fadi Anser congratulated Abu Kevin's wife: "Good on her, instead of learning Swedish she taught him Arabic!"
The post is popular at a time when immigration, refugee policies and social integration are global heated topics.
Sweden has been one of the biggest recipients of refugees in the EU in recent years.
The Scandinavian country was the focus of controversial comments by MEP and former UKIP leader Nigel Farage who commented after US President Donald Trump made remarks about a Swedish terror attack that did not actually happen.
In a statement picked up by far-right activists in the UK and US, Mr Farage claimed that Swedish city Malmo was the "rape capital of Europe" after a rise in sexual crime due to an increase of "young, male migrants" in the country. The claim was proven to be false.
Additional reporting by Majd Yousef