Can a hashtag with mistaken grammar break the internet?
By Sherie Ryder
BBC UGC and Social News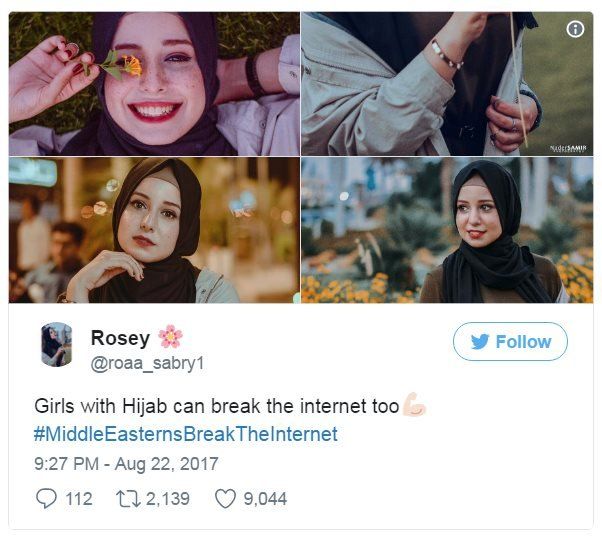 A hashtag encouraging people from the Middle East to "break the internet" has been tweeted more than 53,000 times in less than 48 hours.
Although tweets from @hooyeah5h, @booooosie and @artsyshauna appear to be the first to use the term, it was a tweet by @LebanesePapi, who has nearly 41,000 followers, which gained the most momentum and prompted a wide range of replies.
Some corrected the grammar - Middle Easterners would have been the correct term instead of Middle Eastern - some posted sarcastic tweets, and others simply made the most of the opportunity to share their selfies.
Layla, for example, wanted to share "Nothing but love".
People around the world have been sharing their photos, including @amiraelbadaly in El Gharbia, Egypt:
Maryam in Bahrain shared her tweet saying she had to, to recognise "that one time my makeup was poppin".
Abdallah Zaidan in Abu Dhabi, United Arab Emirates, wanted to be "counted in" along with his various poses for the camera, which have been shared more than 2,500 times.
Another popular tweet came from Mery Nobart in Cairo who asked to join in, too.
Rosey's tweet, which was liked by more than 9,000 people (at time of writing), added "girls with Hijab can break the internet too."
It would appear the internet is still working fine, but the #MiddleEasternsBreakTheInternet call has certainly been gaining momentum. At its peak, the term was tweeted 25,000 times in eight hours beginning around 19.30 GMT on Tuesday, and 22,000 times between midnight and midday on Wednesday.