Darkened skylines and ribbons: Solidarity for Barcelona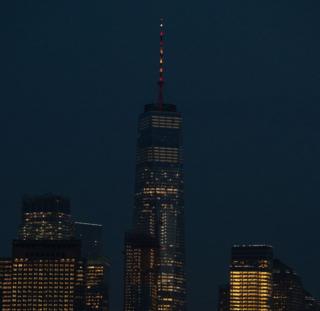 What happened in Barcelona on Thursday has shocked the world and as some have been pointing out, attacks like these are becoming increasingly common.
Gruesome images are being shared over and over on social media after a van drove into crowds at Barcelona's popular tourist spot Las Ramblas, killing 14 and injuring many more.
Memes, photos, videos, and pleas for help have all been circulating widely, along with messages of support from around the world including sports personalities.
French footballer Antoine Griezmann who plays for Atletico Madrid, used one of the popular hashtags #FuerzaBarcelona, or Strength Barcelona.
Argentinean footballer Sergio Kun Agero's tweet of solidarity has been shared 1,800 times and liked by more than 6,000.
Lot of images of hearts, flags, and monuments emerged online.
The fan page of graffiti artist Banksy tweeted an image that has been shared during previous terror attacks. It has been retweeted more than 13,000 times.
Eric Corzo posted his tribute on Instagram:
Spanish pop singer Abraham Mateo tweeted his sadness and defiance saying: "I am very sad and full of rage for my beloved Barcelona. My heart is with you."
#SomosBarcelona, or "We are Barcelona" has been trending on Twitter. The term follows suit with previous attacks in other cities such as JeSuisBruxelles, #JeSuisNice, as well as #JeSuisCharlie in the aftermath of the attack on Charlie Hebdo magazine's office in Paris.
However, some people are making lists on Twitter, reminding us that there are many other places affected by terrorism.
Ab Rasheed Qureshi tweets: "I am Pakistan, Afghanistan, Libya, Syria, Iraq, Somalia, Sudan, Palestine, Egypt, Turkey, Yemen, Nigeria, Mali, Chad, #Barcelona & I am fed up, stop terror."
Costa Brava tourist board showed their solidarity, sending their "sincere condolences and support to all the families and friends of the victims".
Find out more here:
Celebrities around the world have been sending their love.
For those who have had enough of traumatic events being posted on social media, there has been a wave of photos of cats.
Compiled by BBC UGC and Social News team