Russia's Telegram CEO sets #PutinShirtlessChallenge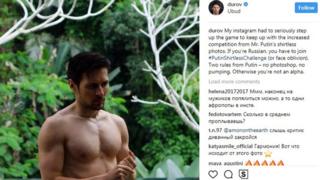 The release of Russian President Putin's topless holiday snaps have inspired the CEO of messaging app Telegram, Pavel Durov, to set a shirtless challenge on social media.
Pavel Durov's #PutinShirtlessChallenge post on Instagram (which prohibited enhancing images with photoshop or "pumping") gained over 47,000 likes in one day.
It may be the first challenge of this sort, although not the first time Mr Putin has appeared without a shirt on holiday.
Many of Durov's followers were impressed with his physique, calling him "exceptionally built," and an "ideal male."
There were tweets aplenty, including a pose from Russian politician Dmitry Gudkov.
Russian men posted holiday snaps on Instagram in response to the challenge, including these from Nikolay Sokolov and Konstantin Protsky:
And as Anastasia pointed out, women were not excluded from the challenge.
You might also like:
Since the president's holiday in southern Siberia was featured on Russian TV in early August, and his naked torso photos have been circulating, some people have been tweeting about whether he intends to run for a fourth term as President.
Others referred to a Russian fairytale of a lazy man who caught a pike which fulfilled his wishes.
Or were the images posted to keep up the tough image of the Kremlin to the US?
However, the challenge did inspire a tinge of sarcasm across social media, including cats and less "buff" torsos:
Compiled by BBC UGC and Social News team, and BBC Monitoring's Yaroslava Kiryukhina and Ksenia Idrisova