Why are Iranians joking about onion prices?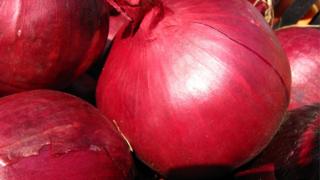 A sharp increase in the price of onions has caused consternation amongst social media users in Iran.
According to BBC Monitoring, onions used to cost between 1,000 and 1,500 tomans (30p; 39 cents). Now they are selling for around 4,400 tomans.
According to the Islamic Republic News Agency, Agriculture Minister Mahmoud Hojjati said "the black market and a light reduction in production" were to blame for the increase in price.
Hossein Asghari from Iran's agricultural ministry explained the losses experienced by onion farmers in recent years had reduced their desire to grow them.
But representatives from the Mashhad Farmers Union blame the government, saying it did not buy enough onions from farmers last year which led them to stop growing the crop.
You might like:
People quickly started making jokes about the "onion crisis" with the Persian hashtag #onion being used in conjunction with #luxury.
Instagram user @hst_74 shared a cartoon depicting the Genie appearing before Aladdin.
"My only wish is for one kilo of onions," says Aladdin.
"I am afraid it is beyond my capabilities, sire," the genie responds.
Another Instagram user, jojiooooooooo, shared a picture of an old farmer sleeping among "a treasure" of onion sacks.
@SaraRadfar tweeted an image of a ring with an onion in a solitaire, prong setting, calling it "the most expensive wedding ring in Iran".
@bozorgaghaaa tweeted "Thanks to our officials, #onion has become an ornament," sharing a picture of a man using an onion necklace.
Another user, @par1395, wrote: "I have 300 dollars. I can buy either... a smart phone or 300 #onions with that."
Twitter user @m_khorasanizade criticised the government of President Hassan Rouhani for the rise in prices and sarcastically wrote: "The poor still have Pride, so they will live shorter in this time of hardship." (The Pride is a model of car popular in Iran with no airbags or anti-locking-brake systems.)
By UGC & social news team, additional reporting by BBC Monitoring.