Klansman with dreadlocks astonishes Twitter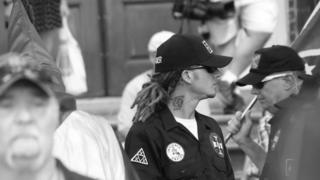 A photo taken at a Ku Klux Klan (KKK) rally in Charlottesville, Virginia, has provoked widespread disbelief online, after a member was pictured with plaited dreadlocks.
The photo was taken by DeVante Cunningham, a recent graduate from the University of Virginia, and it went viral soon after it was posted on Saturday.
"Me and my friend were in total disbelief. We really couldn't believe we had just seen a klansman with dreads," Cunningham tells BBC Trending. "We're looking at the KKK here, and dreadlocks are basically a symbol of African culture. It was really weird to see."
---
More from the BBC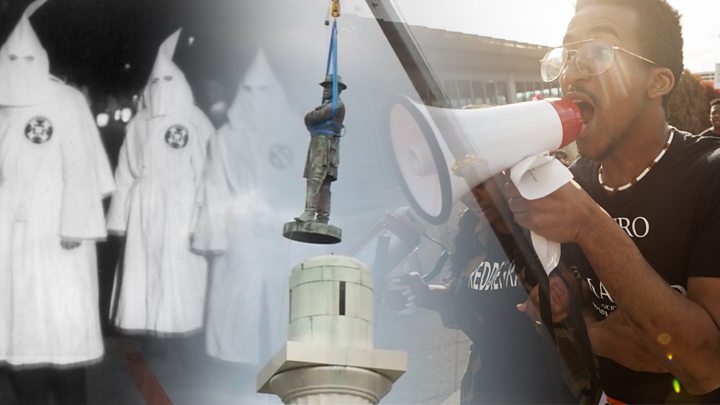 Is it OK for white people to have dreadlocks?
Newsnight: Bieber's dreadlocks: Appropriation or appreciation?
Visit BBC Trending on Facebook
---
Many people online reflected Cunningham's astonishment - questioning why a member of the KKK, a white supremacist group, would wear a hairstyle more traditionally associated with African-American culture. The man, who hasn't been identified, was wearing several Klan symbols on his shirt.
This message was retweeted more than 28,000 times:
Saturday's rally was held by the North Carolina-based Loyal White Knights of the KKK. Members were protesting against the city's plan to remove the statue of a Confederate general from a local park. According to CNN, this is one of several steps that are being taken by Charlottesville officials to reduce the number of Confederate monuments in the city.
This was the first KKK rally that Cunningham witnessed in Charlottesville, and he felt compelled to show his opposition. "I was angry that they were coming to a place that I have called home for the past six years," he tells Trending. "So I knew that whatever counter protest was going to be happening, I needed to be there."
Cunningham, who took a number of black-and-white pictures at the event, says he tried to speak to the klansman with dreadlocks, but the man simply walked away.
Local media reported that approximately 50 KKK supporters attended the rally, and that they were vastly outnumbered by several hundred counter-protesters.
While many social media users questioned why a KKK member would adopt dreadlocks, others joined the debate on Twitter to claim that the hairstyle isn't "owned" by any particular culture.
Cunningham says he might be moving away from Charlottesville soon to start a PhD. But, if any KKK rallies happen in the meantime, he says that he will be ready with a camera.
"For a few years now my camera has been attached to me... If the KKK come back, I'll definitely be there," he says.
Blog by Sam Bright
You can follow BBC Trending on Twitter @BBCtrending, and find us on Facebook.