'It's not like I'll be wearing make-up anytime soon'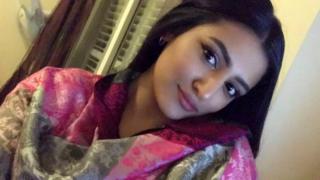 How do you cope when your life is unexpectedly and permanently changed in an instant?
While out celebrating her 21st birthday on 21 June, Resham Khan and her cousin were victims of a hate crime acid attack in east London.
Now she is making peace and recuperating, with a touch of dark humour.
Chronicling her recovery on social media, she posted a make-up palette that was in her now-destroyed handbag: "My beautiful contour palette destroyed. It's not like I'll be wearing make up anytime soon."
Ms Khan and her cousin Jameel Mukhtar have been left with "life-changing" injuries as a result of the attack.
The business student said she had plans to launch a "little business" and was due to start a new job on Sunday "working with young people on a social inclusion residential program". However, she stated that she would no longer be able to carry out the role because of injuries to her leg.
But some told her she had already started a job, with one branding her "employee of the year" for "inspiring thousands with your resilience; educating the ignorant; and silencing naysayers".
Another called Ms Khan a "superhero".
Documenting the quirks of her hospital stay, Ms Khan tweeted: "The nurse moved my MacBook, left the room and then it fell on the floor. Today is not my day."
She added she is "hoping to concentrate on getting better and coming to terms with the recent events, so I can prepare myself for the next stages of my life. I want to make sure I'm fit and ready to complete my degree and prepare myself for the career I've been planning for.
"I'll get myself back into work, I'll look good, I'll graduate. And things will get better," Ms Khan posted on Facebook.
Commenting on the attack itself, Ms Khan offered the words: "Make peace with each other and the world. Letting this man or the events of the past fill you up with hate will only darken the soul."
You might also like:
There has been a sharp rise in attacks involving corrosive fluids in London in the past four years. In 2016-2017, there were 398 victims of crimes involving "noxious or corrosive" substances in the capital city.
In April, 21 people were hurt - including two each blinded in one eye - in an acid attack on a Hackney nightclub.
Acid attacks are also increasingly common in India where hundreds of such incidents are recorded each year. One woman in the Indian state of Uttar Pradesh was recently attacked with acid for the fifth time.
And in June a former Miss Italy finalist returned to her work five months after having acid thrown in her face.
By the UGC and Social News team; Additional reporting by Georgina Rannard.
You can follow BBC Trending on Twitter @BBCtrending, and find us on Facebook. All our stories are at bbc.com/trending.