Qatar row: Daughter named Saudia and Harrods boycott call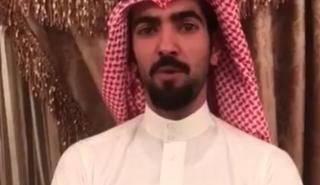 The diplomatic row between Saudi Arabia and Qatar is being played out on social media this week. Ordinary civilians have taken to Twitter to express their solidarity or voice their frustrations.
Parents in the Middle East are demonstrating their patriotism during the ongoing rift by naming their children after the country they support.
A Saudi national has named his new baby girl 'Al-Saudia' following a Kuwaiti father who last week announced that his daughter would be known as 'Qatar.'
The pledge of allegiance by Qatar's father inspired Ahmed al-Anizi to post a video on Twitter holding his newborn daughter wrapped in a Saudi flag, announcing: "In response to the Kuwaiti citizen who named his daughter Qatar, I am a Saudi citizen and I am naming the first baby that God has blessed me with al-Saudia"
Arab Twitter - a large but loose collection of people tweeting in Arabic, mostly living in Gulf countries - has responded to the latest baby naming with the hashtag #Saudi_names_his_daughter_Saudia, which has been tweeted more than 65,000 times since it was posted on the 27 June.
The pledges of allegiance follow a rift between Qatar and Saudi Arabia and several other Arab states. They accuse Doha of supporting terrorism.
Kuwait, which is not one of the countries boycotting Doha, has been mediating in an attempt to heal the rift.
'This is not nationalism'
But there's been mixed reaction to the fathers' pledges of solidarity. Some applauded the move while others questioned why children were being brought into the political spat between the gulf countries,
One Twitter user posted: "Today I feel proud of the awareness of this nation's youth of the dangers of our enemies, who work day and night to shatter our unity."
Another commented: "I wish I could have been named Saudia because this would be an honour for me. Yes, I am a Saudi and proud of it and hopefully if I get married, I'll name my first-born Saudia."
You might also like:
Others were less impressed at the expression of loyalty: "This is not nationalism, just like the person who named his daughter Qatar," posted another Twitter user. "This is pretentiousness mixed with defiance, and without consideration for the fact that the child has become a commodity in this situation."
Another Twitter user agreed: "No matter how patriotic you are, it shouldn't reach the point of calling your daughter a name that might cause her issues when she grows up. Call her a nice name and express your patriotism some other way."
Qatari's laugh off calls to boycott Harrods
Baby naming is not the only way civilians in the gulf are becoming involved in the diplomatic row.
Qatari online users have today reacted sarcastically to a call by an Emirati official to boycott the UK's famous department store Harrods, which is owned by the Qatari royal family.
The Arabic hashtag "Boycott Qatari Harrods" is a top trend in Qatar, attracting approximately 20,000 tweets in 24 hours. Users criticised the campaign and downplayed its impact on Qatari investments.
The critical comments came in response to a tweet on 26 June by Sultan Ali Rashid, Chairman of the Emirati-Norwegian Chamber of Commerce in Oslo, who said: "Every dirham spent in Harrods means participation in spilling blood of innocent people. Do not support the state of terrorism. Join us in the boycott of Qatari Harrods."
Childish act
One Twitter user described the call as "childish" while another mocked the boycott as unnecessary if Harrods has a no-dogs-allowed policy.
One Twitter user in Doha questioned whether it would have any impact on the famous store: "Harrods is one of the biggest icons of London. You think one or two countries boycotting would affect its profit?"
Others joked Harrods shouldn't be the only place to be singled out, given other places and brands were Qatari-owned.
As this Qatari twitter user pointed out: "By the way, Qatar owns a percentage of Heathrow Airport. So, do not come to London."
By the UGC and Social News team; Additional reporting by BBC Monitoring's Sumaya Bakhsh and Zakariya Ayyad
You can follow BBC Trending on Twitter @BBCtrending, and find us on Facebook. All our stories are at bbc.com/trending.