The online groups of men who avoid masturbation
By Anisa Subedar
BBC Trending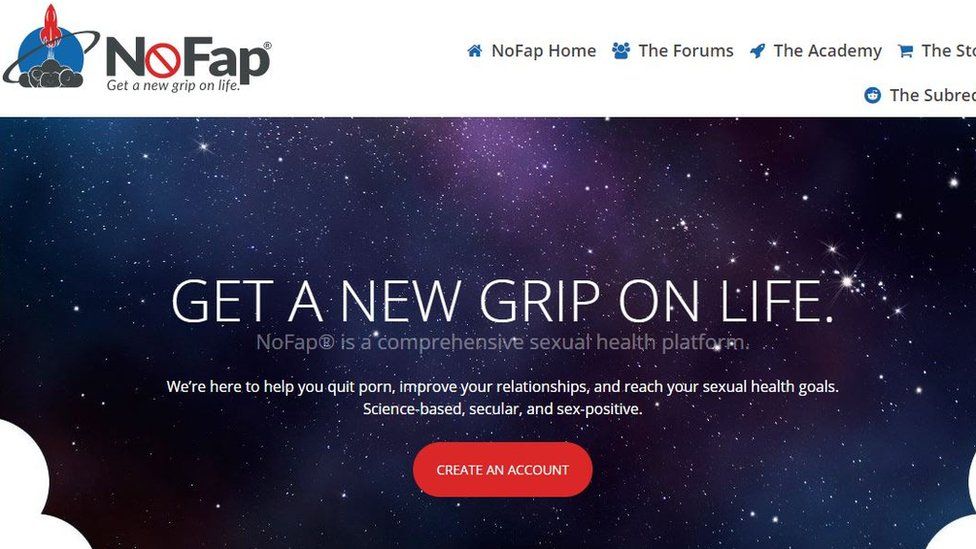 Their motivations vary, but a growing number of men are gathering online in communities devoted to abstinence not only from sex, but also masturbation.
It has more than 230,000 members, or about as many as forums devoted to Bitcoin and Bernie Sanders. But r/NoFap - one of the boards or "subreddits" on community-based site Reddit - is filled with men trying to avoid masturbating. And while some users claim "superpowers" and warn of the dangers of porn and sex addiction, there is little advice in the forum being offered from qualified medical professionals.
The term "fap" is a relatively new onomatopoeic synonym for masturbation which cropped up in a Japanese comic strip in 1999. The "NoFap" community has had a steady increase in its membership since it started in 2011, and has spawned an organisation and spinoff groups, some devoted to particular religious communities. In some ways the movement is an offshoot of the huge demand for online health advice.
Talking about sex and masturbation, of course, is taboo in many places around the world, and the NoFap subreddit brings in an international crowd. Secure in their anonymity, group members openly discuss "healthy" and "unhealthy" periods of time spent masturbating and counsel each other with tips and techniques on abstinence.
One typical message reads: "If you just keep on adding up days without doing it, one more day on another, while holding back any such urges to porn or anything, you'll abstain from it eventually."
A recurring topic is the issue of total abstinence from "pornography, masturbating and orgasm" - abbreviated to "PMO". Many on the forum believe avoiding PMO promotes a rise in testosterone levels in the body and even creates "superpowers".
One subscriber posted: "Just hit two weeks [abstaining] for the first time ever... In my opinion, we all have the capacity to be energized, focused, and productive. PMO, however, eliminates our desire to be this way, which is why it is so toxic to our wellbeing."
The founder of the NoFap organisation, Alexander Rhodes, explains that the idea of "superpowers" isn't really meant to be taken literally.
"We're talking about what you would be if you weren't being subjected to a super stimuli which causes you to prefer pixels on a screen rather than sex with human beings," Rhodes tells BBC Trending radio. "'Superpowers' is a return to normalcy, whether it's increased self confidence or free time or energy... they're not being held back by pornography any longer."
While many people would question the presumption that porn and masturbation are inseparable, NoFap users are convinced of the dangers of porn addiction. But others aren't quite as convinced that they are clinical disorders - or that abstinence is the answer.
Porn and sex addiction are yet to be included in the Diagnostic and Statistical Manual, the "bible of psychiatry" which is issued by the American Psychiatric Association, although some studies have shown that porn has an effect on the brain similar to drugs or alcohol.
Paula Hall is a psychotherapist and specialises in the treatment of people who say they are addicted to sex and porn. She doesn't think abstaining from masturbation is a long-term solution when treating clients who would describe themselves as porn addicts.
"For some a period of abstinence is helpful for them to be able to get to know what their natural libido is like," she says. "But for many, particularly for those that are single so may not have any other sexual outlet, trying complete abstinence from masturbation is very difficult and can be very disheartening."
"The key thing to understand in all addictions is that it's the function of the behaviour that defines it as an addiction," she says. "So whether you're somebody who is compulsively viewing animated pornography or someone who is compulsively chatting online or someone who is compulsively visiting sex workers, it's that dependency on the behaviour that defines it as addiction."
Alexander Rhodes points to the growing ranks of NoFap forum users as evidence of the need for groups like his to help men struggling to cope with their internet pornography habits.
"'NoFap' is an organisation that supports its users regardless of what their goals might be as long as they're trying to improve their sexual health and live their sexual habits in a way that they want to," he says, pointing out that abstinence is not the ultimate aim of all participants. "We don't have a unified goal. Some people want to masturbate some people don't want to masturbate - it hosts a wide variety of people with different viewpoints."