Hijab-wearing model appears on front page of major US magazine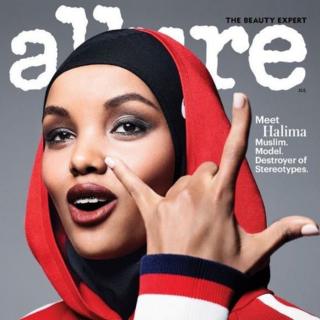 A 19-year-old Somali-American has become the first ever hijab-wearing model to appear on the front page of a major US magazine.
Halima Aden is featured on the July cover of American women's publication Allure. In a feature for the magazine, the model explained that it was always her choice to wear the hijab.
"Not all Muslim women opt to cover their heads." she explained. "It's how I interpret my religion, but there are women who are Muslim who choose not to wear the hijab. That's something people often forget."
The editor-in-chief of Allure, Michelle Lee, told the BBC the magazine was intensely proud of Halima and the cover.
"We knew that we wanted the July issue to be an ode to American beauty. One of Allure's core messages is that we believe strongly in the beauty of all people." Lee explained.
"America is, and always has been, a melting pot. The picture of American beauty is so diverse today, and Halima has an incredible story."
Aden, who grew up in a Kenyan refugee camp, moved to the US at the age of seven and began wearing the hijab shortly after.
In a BBC interview in March the model described her hijab as her "crown" and explained how designers were reacting to a woman's right to choose: "It's almost surprising we haven't seen a hijab-wearing model. It should be normal, it shouldn't be any different to any other model.
"Designers should be happy with it. It shows their company is empowering women from all different walks of life, different faiths, and that's important."
It's not the first time the model has appeared on a magazine front cover. Earlier this month she was featured on the front page of Vogue Arabia.
But her appearance on the cover of a major US publication was the achievement Aden wanted to celebrate.
On Twitter she posted: "From refugee camp to the cover of @Allure_magazine! Thank you for the opportunity of a lifetime! I am so beyond grateful."
The tweet has been shared more than 26,000 times since it was posted on 20 June.
But there has been mixed reaction to the cover. One Twitter user posted: "Well done for glamorising the oppressive parts of Islam."
Meanwhile others praised the model for the bold move. "The fact that YOUNG BLACK HIJABIS can be represented and look up to you is soo beautiful," commented one.
---
You might also like:
---
Commercialisation of the hijab
Aden is not the first hijabi model to be included by big name publications and brands.
Libyan-American Noor Tagouri featured in Playboy. The journalist appeared in the publication's October 2016 edition, and told the BBC the magazine was a place where she could make her argument "on the frontline".
Fashion label Nike have endorsed the head covering by releasing a line of sports hijabs, and fashion houses Dolce & Gabbana and Gap have featured models with hijabs to promote their brands.
Even at last year's New York Fashion week Indonesian Muslim designer Anniesa Hasibuan presented a show in which all the models wore hijabs.
Social media promoting fashion with hijab
Mariah Idrissi, 23, a British-Pakistani-Morrocan, was the first hijab-wearing model for H&M.
In a BBC interview she explained how social media is helping to make mainstream fashion more diverse.
"Even though fashion with hijab has been going on for years, we're only really seeing it more with Instagram, Twitter and Facebook. Over the last few years, its really boomed and retailers are reacting."
By the BBC's UGC and Social News team
You can follow BBC Trending on Twitter @BBCtrending, and find us on Facebook. All our stories are at bbc.com/trending.