Why men who can't wear shorts are wearing skirts instead
By Rozina Sini
BBC News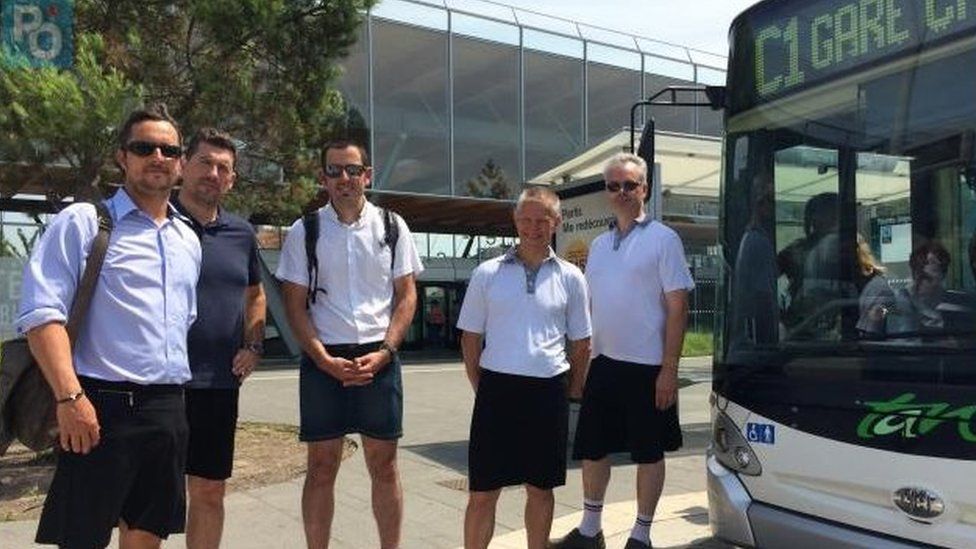 Overheated men and boys in the UK and Europe are defying dress codes by wearing skirts.
After finding it too hot to work in full-length leg wear, members of the CFDT Semitan Union in Nantes got around the no-shorts-to-work policy by wearing skirts.
The drivers told the local Presse Ocean news site they envied women who were able to wear skirts in the heat wave, and the video of their story has been viewed more than 160,000 times in two days.
Union member Gabriel Magner said: "When it's 50 degrees behind the windscreen all day, those are work conditions which are not acceptable.
"What we want is for the company to do something about it so when it gets like this a heat regulation can come into force when the temperature reaches a certain level, to allow drivers to wear Bermuda shorts, for example."
In Buckinghamshire, Joey Barge, a call centre worker, was sent home from work because his blue shorts did not meet the company's dress code.
In protest Mr Barge changed into a pink and black dress and his tweets documenting the episode were re-tweeted thousands of times.
Most responders were encouraging, applauding him for the unique way he brought attention to the no shorts policy, while others shared their own stories of work place dress rules.
One Twitter user posted: "I was once reprehended by my boss 4wearing a lavender skirt (4its color) I pointed out my male coworker had shirt same exact tone so I get u."
Mr Barge's employers have since relaxed the rules on work attire.
Now Mr Barge may wear three-quarter-length shorts, but only in black, navy or beige.
By the BBC's UGC and Social News team
You can follow BBC Trending on Twitter @BBCtrending, and find us on Facebook. All our stories are at bbc.com/trending.