London fire: Beds, tea and lifts for tower block victims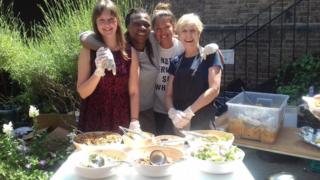 As London woke to reports of a massive blaze that ripped through Grenfell tower in the west of the city, offers of free shelter and assistance were quickly made online.
A number of fatalities have been reported though the cause of the fire in the Latimer Road tower block remains unknown.
As the tragedy unfolded, many offered "clothes, lifts" as well as their own homes to those in need of shelter.
English singer Lily Allen also volunteered a "bed or a lift, or tea" to anyone in need, while chef Jamie Oliver said those affected were welcome "to come hang out in my restaurant and be fed and watered by my Jamie's Italian team".
Some set up crowdfunding pages raising thousands of pounds to help the victims.
The ClementJames Centre told the BBC that it was "overwhelmed" by the amount of supplies coming in to the charity. But some centres are said to still be in need of blankets and clothes, including the Central Gurdwara Sikh Temple in Shepherd's Bush.
Nearby churches, mosques, and gurdwaras also freed space for those in need.
Nearby fitness centres also offered their help, as did other businesses.
And while some schools in the area closed to their students, one primary school opened its doors to offer tea and shelter.
Others volunteered their time to provide help to those affected.
Several mobile phone networks also said their stores in the area of the tower would give access to phones and the internet.
And a local charity - the Rugby Portobello Trust - set up a Facebook event to help locate displaced residents taking shelter there.
By the UGC and Social News team