'Brexit for breakfast': How the social world reacted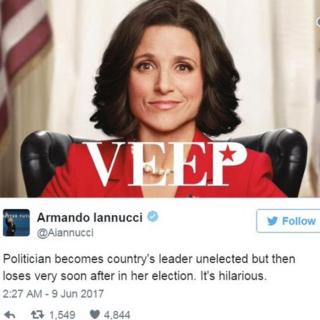 The UK general election's surprise result has generated a buzz on social media across the world.
Many have greeted the idea of a hung Parliament with shock and also uncertainty.
Online, users are saying Prime Minister Theresa May has followed in the footsteps of Selina Meyer from the HBO series Veep, who stepped up from vice president to president of the United States but then failed to get a majority in a presidential election.
Others around the world have commented on what the election will mean for Brexit, drawing parallels to governments elsewhere and - of course - Donald Trump made an appearance too.
'Eating hard Brexit for breakfast'
Some Europeans on the social network Reddit considered the election result "entertaining" and questioned Theresa May's decision to call a snap general election to start with.
While others predicted more elections: "More voting for the Brits is likely. This is like the sixth election [vote] or something in the last two years?"a Danish user added.
Talking about the youth vote, German Minister of State for Europe Michael Roth said he was "proud" British youth had chosen to vote "for Europe".
You might also like:
Adopting a more humorous tone, a parody Twitter account for German Chancellor Angela Merkel said she'd be "eating hard Brexit for breakfast".
'I promise it'll be fun'
Online comment surrounding a possibility of a minority or coalition government has picked up in countries where similar scenarios have unfolded.
One Dutch Reddit user wished Brits "good luck" with a coalition formation: "Coalitions don't often happen in the UK, do they? We're currently forming one with four parties. I promise it'll be fun."
Negotiations to form a Dutch government have since stalled and liberals are now looking at a five-party coalition.
Similarly, a Welsh-Belgian Twitter user "agreed" that the UK should be "more like Belgium," where in 2010-2011, coalition negotiations to form a government took over 19 months.
And Israeli writer Didi Chanoch tweeted that a hung parliament scenario was all too familiar in his country.
Trump, Corbyn and the Middle East
Some Twitter users in the US drew links between the results of European elections and support for Trump.
An anti-Trump US tweeter continued that the French and UK political parties should have leant their "lesson".
Drawing on allegations of Russian interference in the US presidential election, Karl Sharro, from Lebanon but based in London, joked about the lack of hacking in the UK's election.
And while US Senator Bernie Sanders congratulated Mr Corbyn on doing "so well", an Israeli Facebook user said Labour leader Corbyn was "anti-Israel" and that this "disastrous" result "is really bad news for British Jews and Israel".
Meanwhile, a US journalist said any Labour victory also "means a huge loss for Saudi Arabia" as the Labour leader had pledged to "cut arms sales and fight to stop the Saudi war in Yemen".
Late last week, Mr Corbyn said the UK needed to have "difficult conversations" with Saudi Arabia and Gulf states on "extremist ideology".
By the UGC and Social News team