#DogsAtPollingStations: The trend you knew was coming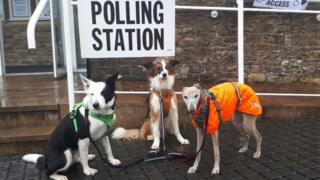 As people across the UK cast their votes in the general election their paw-fect pooches have also been exercising their voting rights, and predictably the hashtag #DogsAtPollingstations has become a social media trend.
But, as you'll see, we've noticed that babies, cats and even hedgehogs and guinea pigs are trying to grab a piece of the political pie.
Many posted images of their dogs online after polling booths opened on Thursday morning and the hashtag has been used tens of thousands of times with over 8000 tweets sent in the first two hours of voting.
The election trend also appeared last month in local elections, the EU referendum, and the last general election.
But this year, a new Twitter emoji has been released for those using the hashtag - a terrier donning a union jack. Twitter partnered with The Dogs Trust to encourage use of "Paw-ing Stations" to make dogs joining their owners more comfortable.
But it wasn't just dogs who took a casual stroll to the election booth, as the trend #babiesatpollingstations, also emerged shortly after voting began.
There was an interruption when an unexpected guinea pig popped up:
But the #dogsatpollingstation continues to remain a dominant trend.
You might also like:
Don't forget the working dogs!
Some pooches were unable to make it to the polling station, but didn't want to be left out:
But we couldn't continue without acknowledging the rival #catsatpollingstations trend:
Even Friday the hedgehog wanted a piece of the action:
There's been a lot of competition today though - #horsesatpollingstations anyone?
And finally sheep - perhaps we can get a dog at a the polling station to herd them up:
By the UGC and Social News team