#PrayforTehran: Messages of solidarity after attacks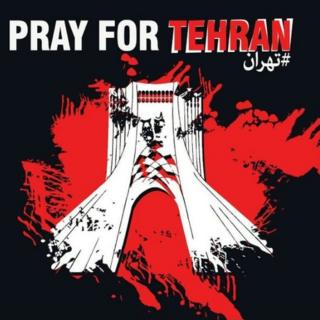 Social media users from around the world are sharing messages of solidarity with Iran after twin attacks in the capital.
At least 12 people were killed in an assault on the parliament building and the late Ayatollah Ruhollah Khomeini's mausoleum on Wednesday.
Many used the hashtags #prayforiran and #prayfortehran to show their solidarity, with some calling for the attacks to be met with equal condemnation to those perpetrated elsewhere. Iranians also used the term "Tehran Under Attack" to express their fear and shock on social media.
The so-called Islamic State (IS) claimed responsibility for the attacks - a first for the group in Iran. Iran is actively involved in fighting IS and rebel groups in Syria alongside Syrian government forces.
"This is the first terror attack in Tehran in decades, we're all baffled and angry," one Twitter user said.
"I have been hashtagging for so many years, who would have thought I would do the same for ourselves", an Iranian Twitter user added.
"We stand united with Tehran, Kabul, London, Paris, and all! We want peace in the world!" another in Pakistan continued.
Vice President of the European Commission Federica Mogherini also sent out her "condolences to the victims of the attacks in Tehran... This is obviously a very sad day again. For us, anytime that there is a terrorist attack anywhere in the world, this is something we follow closely."
The Embassy of Russia in South Africa added: "Our thoughts are with the people of Iran following a series of terrorist attacks in Tehran. Together we stand strong vs this global threat."
You might also like:
But others urged people not to remain silent, with several users questioning whether world capitals would light up their landmarks in the colours of the Iranian flag in a show of solidarity.
Following the Manchester attack last month, iconic landmarks around the world were illuminated in the colours of the union jack. Similarly, monuments were lit up following the Paris attacks and the Brussels attacks.
Echoing this sentiment, the president of the Council on Foreign Relations Richard Haass appealed to US President Donald Trump to issue a condemnation.
By the UGC and Social News team; Additional reporting by BBC Monitoring's Iran team