World landmarks light up for Manchester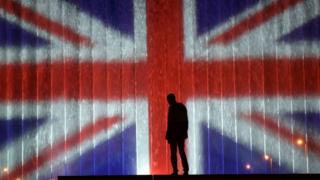 Iconic landmarks around the world have been illuminated in the colours of the union jack to show solidarity following the Manchester attack.
Twenty-two people were killed and 64 injured when a suicide bomber attacked concertgoers at Manchester Arena on Tuesday night.
Images of major landmarks from around the world lit up in red, white and blue were shared on social media to pay tribute to the victims of the attack.
Geneva's Jet d'Eau fountain was among several landmarks to change colour.
The world's tallest tower - Burj Khalifa - also stood out in among the Dubai skyline in the union jack colours. Many of Dubai's residents are foreign expats, including British nationals.
One Twitter account said that Burj Khalifa was presenting a "powerful message". In Abu Dhabi, the Sheikh Zayed Bridge was also lit up.
Solidarity was shown in different corners of the globe with the Tel Aviv City Hall, Orlando Eye in Florida, and the Toronto Sign lighting up in red, white and blue.
In Australia, Brisbane's Story Bridge was another example.
The head of office at The British Consulate in Brisbane Craig O'Kane tweeted: "Unwavering solidarity is true friendship."
But some landmarks, like the Eiffel Tower in Paris, turned their lights off in tribute.
You might also like:
Monuments around the United Kingdom also bore the union jack's colours, including the Belfast City Council.
The Penshaw Monument and Sunderland court building were also lit in solidarity with the northern city.
And Wembley Stadium paid tribute to those killed and affected in the attack, with a sign reading: "For Manchester."
By the UGC and Social News team