'Fire burn and cauldron bubble': Trump and the glowing orb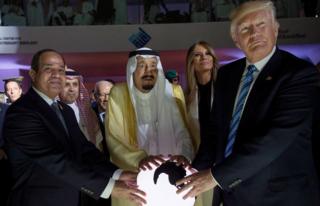 An image of US President Donald Trump with his hands placed over a glowing white orb alongside Saudi King Salman and Egyptian President Abdul Fattah al-Sisi is lighting up social media.
On Sunday, the leaders inaugurated a new centre in Riyadh aimed at combating extremist ideology. Mr Trump was on his first foreign visit to Saudi Arabia where he urged regional leaders to take the lead in rooting out radicalisation.
Trump has since arrived in Israel where he will be meeting Israeli and Palestinian leaders.
Trump urges Muslim leaders to lead fight against radicalisation
Trump in Saudi Arabia: US president joins ceremonial sword dance
Among the numerous photoshops and captions of the event shared online were the opening lyrics from The Song of the Witches in William Shakespeare's Macbeth.
As President Trump's eyes were closed in the widely shared screen grab, one Twitter user guessed the president was making a wish.
"For clarification, this is not a Satanic ritual," tweeted the Church of Satan, an international religious movement based on LaVeyan Satanism.
While comedian and actor Kumail Nanjiani joked the lit ball was the "Glowing Orb of Islamic Dominance", another Twitter user likened it to the Eye of Sauron from The Lord of the Rings trilogy, the next instalment of which "looks terrible," said musician Mikel Jollett.
Scenes from the 1997 film Space Jam, Harry Potter and the 007 film series were also referenced: "The point when the supervillains form a pact to take over the world."
You may also like:
"Just some billionaires gathering in the dark and holding a glowing orb, probably fine," another user suggested.
One Twitter account shared a fake tweet by President Trump, which said: "Cyrus the Great was buried in a sceptre of tremendous power. I, king of the New World, command my people to find his tomb and recover his sceptre. None shall sleep until the sceptre is found!"
Naturally, there had to be a fabricated response from a Trump critic:
Despite the jokes, a supporter of President Trump who spent two years "working to defeat Hillary" said he preferred the orb to an image of Clinton altered to show her using the Sith power of force lightning from Star Wars.
By the UGC and Social News team