Labour leak reaction: Mock Tory manifestos and magic money trees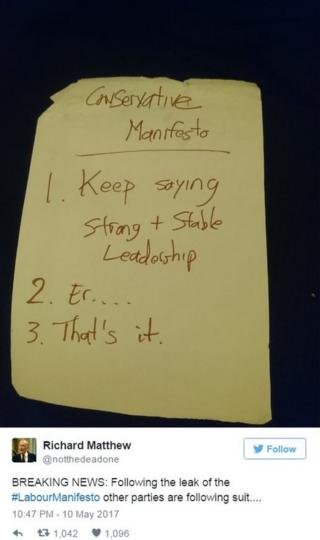 Drawing up an election platform is no easy feat, but some Twitter users appear to be outlining mock manifestos in a matter of minutes.
Social media users who support Labour leader Jeremy Corbyn are drawing up mock Conservative manifestos, while his critics say Labour think money grows on trees.
This comes after Labour's general election draft manifesto was leaked late on Wednesday, including plans to spend an extra £8bn on social care over the next Parliament, nationalise parts of the energy industry and scrap tuition fees.
Mock Conservative manifestos shared online included a simple three-point plan: "1. Keep saying strong and stable leadership, 2. Er...., 3. That's it." Another pro-Corbyn Twitter user added plans to "kill foxes and love rich people".
But Mr Corbyn's critics said the plans were "unaffordable", with a Conservative supporter tweeting that the manifesto "reads more like a child's Christmas list".
The 'hard left', pro-Corbyn blog The Skwawkbox tweeted the "leakers and Tory media" had effectively shot themselves in the foot and blogged about the "scale and boldness of vision" in the draft, which would sway the election in Labour's favour.
A social housing campaigner tweeted that the manifesto was "exactly what you would expect to find in a fair and decent country" and another Twitter user praised it as "the most progressive manifesto of my lifetime".
Mark McGowan, also known as the Artist Taxi Driver, tweeted a video from his cab saying the manifesto "rights the wrongs of this Tory-rigged system... It's a once in a lifetime chance for you, for your family, for your children, for all of our futures".
But online criticism was also levelled against the plans, with some describing Labour as "financially inept" and believed it could shake "magic money trees" to pay for its plans.
The Clean All The Things! meme from the Hyperbole and a Half blog was also resurrected as "Spend all the money!" in response to the news.
Another joked: "Is [Diane] Abbott doing the maths?" Last week, the shadow home secretary had underestimated the cost of extra police officers in an LBC interview but she says she "misspoke".
Also by the UGC and Social News team:
Several others, including a London-based user with the Twitter handle @BBCPropaganda, compared the Labour manifesto to that of the Communist party.
"On your Marx. Get set. Go. #oblivion," another continued. The same Twitter user said Labour would be paying for its plans with "magic beans".
And a more humorous take inspired by Doctor Who imagined Corbyn "taking us back to the old".