Arabs praise 'Abu Ivanka' aka Trump for Syria strike and #AmericaIsOverParty fears army draft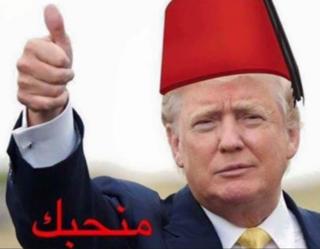 Arabs online thank Abu Ivanka, or President Donald Trump - for the US strike against Syria - and Americans fearful of conscription into a huge war tweet #AmericaIsOverParty.
Abu Ivanka al-Amreeki
Arabs on social media are showering US President Donald Trump with thanks and praise after he ordered the first direct US military action against Syrian government forces.
The US conducted the strikes on a Syrian air base in the early hours of Friday following a suspected chemical attack on a rebel-held town.
Shortly after, some Arab social media users started referring to the president as Abu Ivanka - Father of Ivanka, as a sign of respect and endearment.
Others referred to him as Abu Ivanka al-Amreeki - Father of Ivanka the American, complete with a religious beard.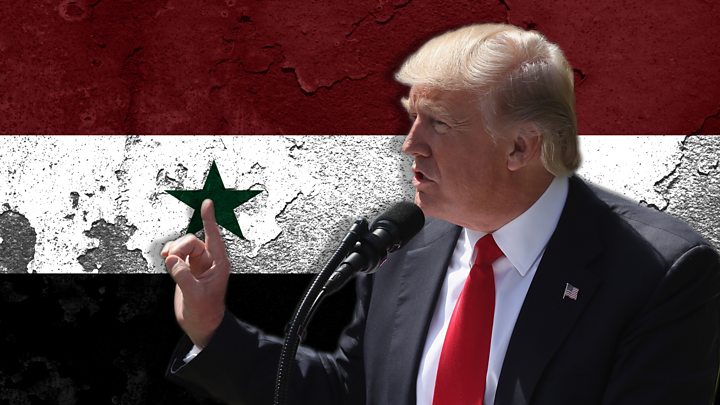 But some were critical of the president's move and the motives behind it.
One user gave Trump an Arab makeover, with a meme of him wearing a traditional tarboosh hat (similar to a fez), with the words: "We love you."
He was also described as a "man of his words", with one user telling him: "You did in a few months what Obama couldn't do in 8 years."
"Fifteen warplanes that would have killed thousands of Syrians" were destroyed, one user said, changing his Facebook profile picture to an amalgam of Trump's face, the American flag, and the Arabic words: "We love you."
A media activist in Idlib wanted to see more action, calling on the US president to keep going and "hit Assad down".
And while some said they "never thought" this day would come, they thanked Trump for doing "what no cowardly Arab ruler could do".
"Hope is slowly returning to our hearts. Thank you, Trump," one Syrian posted.
"For the first time in six years, the Assad regime has been held accountable for its crimes," a London-based Syrian said.
Houston-based Syrian artist Moustafa Jacoub shared an image of love for the US president.
Syrian journalist Rami Jarrah had a more measured response: "Syrians are not cheering a pathetic human being like Trump, they're just happy Assad has less means to kill them with."
"Trump has quickly discovered the magic principle of US politics: when things go wrong at home, start a military venture in the Middle East," London-based blogger Karl Sharro, who is half-Lebanese and half-Iraqi, commented.
Another person added: "So now you love Trump? Where are those who said when he came into power that he hates Arabs and Muslims?"
Also, a pro-Syrian government Twitter user who was critical of the US move tweeted: "Is Trump going to bomb his own airfields for all the Iraqi and Syrian children they have killed in Raqqa and Mosul?"
---
#AmericaIsOverParty
Some North Americans online think their country is done for after US President Donald Trump ordered strikes against Syrian government forces.
Freaking out over the possibility of being conscripted into a huge war, they're sharing images and videos with tongue-in-cheek remarks, using the Twitter hashtag #AmericaIsOverParty.
Variations of the hashtag, including #TrumpIsOverParty and #HillaryIsOverParty, have been used in the past.
"All Bernie wanted to do is legalise marijuana and help college students, instead we get a carrot as president and WWIII," one Twitter user said.
"Immigration: Hello, how can we help you. Me: Yes I am an illegal immigrant, I'd like to request a deportation asap," a Twitter user joked.
Others said they would be fleeing to Canada and Mexico.
Another shared what her reaction would be if the army were to ask her if she would be willing to die for her country: "No."
The same response was heard elsewhere: "When the US Army officials knock on your door and ask if you're over 18."
One tweeted a gif of a boy falling to the ground, captioned: "Me faking my injury to not get drafted."
Though one user found another solution, saying she would enter names of people she didn't like into the draft.
"When you only joined the military for free college and now you actually going to war," another continued, sharing a crying gif.
But while laughing at the jokes, many said they were also "scared because the war could actually happen".
The hashtag was also used to take a jab at the president and his supporters.
"The people who voted for Trump better get drafted first," one user said. Another continued: "According to Trump's Census I don't exist... so therefore, I can't be drafted for this war... "
Some capitalised on the Kendall Jenner Pepsi advert in their jokes, which was pulled after accusations it trivialised street protests in the US.
One shared a gif of a happy entrance to a TV show: "Kendall walking into Syria with a can of Pepsi". While another showed an image of Kendall's mother brandishing a gun, captioned: "Kendall, we're taking a trip to Syria, bring your Pepsi."
By the UGC and Social News Team