Arab TV station pulls women's campaign, and the "appropriated" LGBT rainbow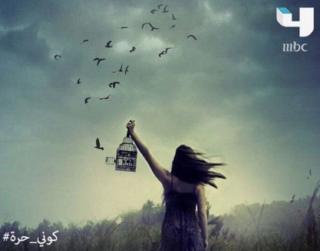 An Arab TV station apologises over an online campaign for women's freedom which prompted anger in Saudi Arabia, and the internet responds to claims that the LGBT community "stole the rainbow flag from God".
Saudi anger over women's freedom campaign
A Saudi-funded private broadcaster has apologised after its social media campaign on women's empowerment sparked an online backlash.
The Arabic "#Be_Free" campaign was organised by one of the Dubai-based Middle East Broadcasting Centre's channels, MBC 4.
While the original campaign tweets have since been deleted, screengrabs are circulating online but MBC says some of them have been "fabricated".
The tweet grabs say: "#Be_Free… Because you weren't created to be a follower or a shadow", and "With love comes freedom, but with obedience comes slavery."
One of them shows a woman with a low backless dress while another calls on women to "rebel and be free without limits".
These messages, targeted at a female audience, did not appear to sit well primarily with male Twitter users in the conservative Saudi kingdom.
A Saudi prince who owns significant shares in the corporation distanced himself from the campaign and even threatened to "destroy" the person responsible for it if they did not retract the campaign and apologise.
"Whoever calls for absolute freedom is looking to spread chaos," a prominent Saudi writer said.
One woman added: "If freedom to you means giving up my religion and my hijab and my chastity, may God make me his prisoner for all my life".
In a statement, MBC said that an employee in its New Media division responsible for the tweets used "wrong, unacceptable" language.
It continued that the tweets deviated from the crux of the campaign, intended to "support the rights of Arab women and to empower them".
But this wasn't enough to curb the anger, with calls to boycott the channel and companies that advertise on it.
But some were more conciliatory about MBC's "good intentions" following its clarification.
A student in Tunis said: "Inspiring and encouraging women to seek their rights is NEVER a bad thing. No one should apologise [for] doing such a thing."
---
The "appropriated" rainbow
Have you recently come across rainbow colours on your social media?
It could be related to this tweet by Bryan Fischer, a programme host on a US Christian radio network who said that the LGBT community "stole the rainbow flag from God".
Mr Fischer added that this represented the "worst example of cultural appropriation ever".
The rainbow flag is recognised around the world as a symbol for LGBT rights. Gilbert Baker, who created the flag, died last week at the age of 65.
People were quick to respond to Mr Fischer by sharing images and animated gifs of the colours of the rainbow.
---
You might also like:
---
Actress Zelda Williams shared a gnome from the Disney animated series Gravity Falls producing rainbows.
Another user shared an image of Care Bears "giving back" a rainbow.
Other Twitter users mocked Fischer by giving alternatives to the "worst example of cultural appropriation ever", including Apple co-founder Steve Jobs who "stole the apple from God".
One added: "Drinking water is the worst example of cultural appropriation ever. God invented it and people stole it for taps!"
By the UGC and Social News team. Additional reporting by BBC Monitoring's Middle East team