Miliband's joke steals Osborne's limelight and Iranians denounce a crackdown on Telegram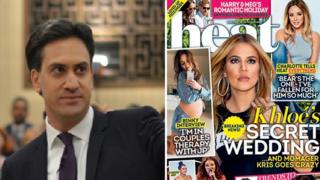 Politicians and journalists ponder alternative jobs after news that MP George Osborne will edit a London newspaper, Iranians criticise a crackdown on Telegram users in the run-up to the presidential election, some supporters of the US president cancel their trips to Hawaii, and a German railway company wants to help people overcome not only distance but prejudice.
Ed Miliband will be editor of Heat
What would celebrity mags look like if Ed Miliband ran them?
After the former Labour leader joked that he will edit Heat magazine, his Twitter followers have been wondering just that.
He was tweeting after the real announcement that Conservative MP and former Chancellor George Osborne is to become editor of the London Evening Standard newspaper.
"Can't wait for take on ex on the beach," said one user.
Mr Miliband's journalistic abilities are being questioned though - 'Do you know enough about the Kardashians?' one follower mused.
There were other job announcements too as social media users reacted with surprise to the news that Mr Osborne will edit the newspaper while continuing his work as MP and as advisor to city firm Black Rock.
BBC correspondent Rory Cellan-Jones drew attention to Mr Osborne's possible conflict of interests when he announced he will become CEO of Google but continue reporting technology news in the afternoons.
Ed Vaizey MP suggested he is thinking about joining Channel 4 as their chief executive, while Green MP Caroline Lucas said "proud to announce am accepting post of news editor at the Sun #inappopriateAppointments".
There was speculation about Mr Osborne's deputy editor too when journalist Simon Hattenstone suggested it might be a job for Justin Bieber.
Others commented that Mr Osborne's experience as a journalist was limited.
Andrew Neil pointed out that his previous lack of experience as an editor was criticised when he became editor of the Sunday Times.
And Number 10 Downing Street's resident Twitter cat drew attention to the Standard's coverage of George Osborne's stint as Chancellor in 2013.
Marion Kelly made an appearance of course.
Some other Georges have had a turbulent day too.
George Osborn, a journalist, got more than a few erroneous mentions: "To clarify, @George_Osborne is becoming the editor of the Evening Standard. I am not. Yet..."
---
Iranians on social targeted in heightened crackdown
Iranian social media users are condemning a recent crackdown on popular channels on Telegram, the instant messaging service whose majority of users come from Iran.
A dozen administrators of popular Telegram channels in the country have been detained and several channels - both reformist and supportive of the moderate government of President Hassan Rouhani- were blocked or hijacked.
Some of these channels include the reformist "eslahatalabannews" and presidential supporters "havadaranhasanrohani96".
"The goal behind the arrest of the administrators of Telegram channels is very clear: Blocking the strongest currently available outlet for disseminating free information," one user said.
Many social media users say the move shows that reformists and pro-government groups are coming under pressure from hardliners ahead of the May presidential election, in an attempt to prevent the re-election the current president.
On Thursday, Iran's prosecutor-general instructed authorities to counter violations on social media platforms in the upcoming elections.
Reformist MP Mahmoud Sadeqi criticised the arrests in a tweet calling on the president and the judiciary not be "indifferent" to the violation of citizen's rights.
Several Twitter users urged the MP to try to free the detained administrators ahead of the Iranian New Year holidays on 20 March.
But others told the MP to take more action on the matter in parliament instead of on social media.
Twitter and Facebook are generally blocked in Iran and Telegram is the most politically inclusive social media platform in the country.
The former Iranian president, Mahmoud Ahmadinejad, made headlines early this month when he joined Twitter - despite previously banning it under his rule.
---
To boycott or not to boycott?
Fancy a vacation? Hawaii may or may not be in the cards - depending on your politics.
Hours before US President Donald Trump's new and revised travel ban was due to come into effect on Thursday, a federal judge in Hawaii blocked it.
Hawaii's attorney general said the ban violated the constitution while Mr Trump said it decision was an "unprecedented judicial overreach".
And a Twitter hashtag war between supporters and opponents of the president ensued, with the former calling for a boycott on travel to Hawaii.
One user scolded Hawaiians telling them to "let the grownups run the mainland".
Another called for Hawaii to be ceded from the US: "Hawaii is no legitimate part of America. It doesn't share out culture, our heritage, or our values. Let's give it to Japan."
"Why should Hawaii, who is thousands of miles away from the rest of the country, control who can come in. I don't think so," a young supporter of the president said.
Virginia-based Scott Presler, said that the US was "importing people who want to murder us".
Theresa, from California, tweeted that the Hawaii ruling prompted her to change her vacation plans from Hawaii to Florida.
But the hashtag was also used by opponents of the president who said a Hawaii boycott by Trump supporters would "turn it even more into the paradise it is".
A Hawaii local added that she was proud of her home, which was a "place comprised of immigrants and many, many beautiful cultures".
While one user elaborated that Hawaii would be the next vacation destination, with it being free of "all the bigots and xenophobes".
"Fastest way to increase tourism to Hawaii? Tell the rest of the world Trump supporters aren't coming. Cha-ching," one user said.
And one Maryland-based called on anyone giving up their Hawaii plane tickets and hotel reservations to slide them on to him.
What would Lilo and Stitch make of all of this?
---
Overcoming distance - and prejudice?
A video showing a German man overcoming his preconceptions about a woman wearing a hijab has proved popular online.
German railway company Deutsche Bahn (DB) uploaded it on its Facebook page as part of a social media campaign on social issues and it has been viewed over 1.5 million times in a few days.
In the clip, a man sitting in a train carriage with a veiled woman asks himself questions like: "Why does she wear a headscarf? Is this what she wants? Or what her family wants? Did her husband order her to do it?"
He looks at her while she reads a book: "What is she reading? A Koran probably... What else?"
The man then focuses on his studies, loudly asking himself: "Where is the supraoptic nucleus located?"
He appears surprised when the woman answers him, telling him she had learned it before. She then shows him the book she's reading - on anatomy - and appears to help him with his studies.
The response online was that of support, but there were offensive comments on the Facebook post which the page admin said they deleted.
One of the top comments on the video said that the trains had "far more ominous figures on them than Muslim women".
Another Facebook user added that he would treat train passengers equally, no matter where they come from or what they look like.
The video was released on the same day of the EU workplace headscarf ruling, which legalised a ban on wearing religious symbols in the workplace.
Update 23 November 2017: This page has been amended to remove a tweet that subsequently turned out to have been generated by a Russian "troll" account.
By the UGC and Social News team; Additional reporting by BBC Monitoring's Iran team