The mysterious death of a live-streaming gamer
By Kayleen Devlin
BBC Trending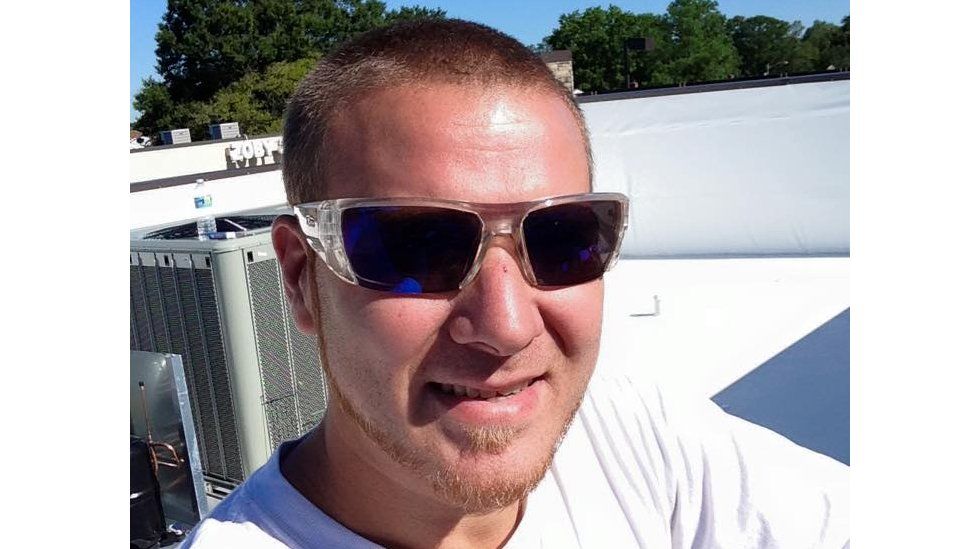 The death of a prominent gamer has led to a debate about whether gaming marathons are hazardous to health.
Brian Vigneault was a 35-year-old father of three from Virginia, USA who gamed under the alias Poshybrid. In February he took on a 24-hour-long gaming marathon, playing World of Tanks to raise money for charity.
The marathon was streamed to a live audience on the website Twitch, which describes itself as "the world's leading video platform and community for gamers".
Twenty two hours in, Vigneault reportedly went outside to take a cigarette break. He didn't return to the screen - and later died.
Vigneault's exact cause of death has not yet been established, or conclusively linked to his streaming marathon. But his friend Jessica Gebauer, who spoke to him on the night he died, told BBC Trending that he looked "extremely tired" and was falling asleep during the stream.
Since Vigneault's death, Gebauer, who is a fellow streamer, says she has questioned the health implications of continuous live-stream gaming. She is not the only one.
Joe Marino is a "professional" Twitch user, who makes money from subscriptions to his gaming channel. He told BBC Trending that he thinks all streaming platforms should set up limits on how long streamers can stream.
Marino, who says he developed Type 2 diabetes after spending a year streaming on Twitch 12 hours a day, seven days a week, said: "The reason you don't move around on Twitch is because you're live, so if you get up and move you've potentially lost a portion of your audience.
Following the death of Vigneault, Marino penned a warning article warning about the health risks of his streaming career. It received comments from gamers who said they too experienced health issues following marathon gaming sessions.
Founded in 2011 and bought by Amazon in 2014, Twitch is a huge community of gamers and game watchers. The company estimates that each day close to 10 million people visit the site to watch fellow gamers and talk about video games, and users can also donate money to more than 2 million streamers.
Twitch and other similar sites host tournaments where seasoned players stay continuously online for several hours - or longer - and gaming marathons are becoming more and more common.
Well-known streamers such as ManVsGame have frequently taken part in marathon streams exceeding 24 hours - and in 2015 he spoke about taking drugs to supplement his marathon sessions.
While deaths as a result of video game streaming are incredibly rare, there have been other incidents including the death of a 24-year-old man in Shanghai 2015 who died after playing World of Warcraft for 19 hours, and the death in 2012 of a teenager in Taiwan who reportedly died at an Internet cafe playing Diablo 3 for 40 hours straight.
Cam Adair, who is founder of Game Quitters - the largest online support community for people with gaming addiction - says Twitch and other streaming platforms have a duty of care to their users: "I'm not saying that companies need to be policing their users, but they could simply reach out and say 'Hey, I've seen you've been playing 15 hours today which is different to what was going on before. Are you OK?'"
However, for professional Twitch streamer Ben Broman, who has taken part in 11 24-hour gaming marathons, imposing health guidelines on Twitch streamers would be too restrictive.
"Twitch, much like any other creative career, involves risk taking and any artist will tell you that it's very important for them to be able to go about creating it in whatever way they see fit," he told BBC Trending.
Another streamer on Reddit said: "Not intending to speak ill of the dead, but he made the choice to do this... I understand there is pressure to produce, but obviously some things come before that. I don't think we should impose restrictions."
Twitch said they are "greatly saddened" at the passing of one of their users, but the company has not responded to suggestions that they should be taking a more active approach in ensuring the health of their users.
A technology used to fight parking fines is now helping asylum seekers apply for emergency housing. READ MORE