Grandfather comes out aged 95, and Tom Hanks treats White House reporters to coffee machine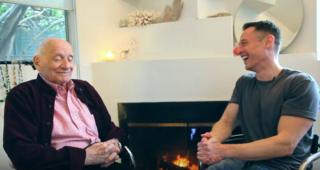 A man married to his wife for 67 years decided to come out at age 95, and Tom Hanks gifts a coffee machine with a personal note to journalists stationed at the White House.
It's never too late
Is it ever too late to come to terms with one's true nature? Perhaps not.
Meet Roman, who decided at age 95 that it was time to set the records straight.
In a three-and-a-half-minute video interview with popular YouTuber Davey Wavey - himself a gay man - Roman, who is now 96, says he has had a wife for 67 years, two children, five grandchildren and one great grandchild.
But last year he decided it was time to "come out of the closet".
Davey told the BBC that he was connected with Roman through his grandson Brandon Gross.
"I happened to be in Los Angeles at the time and was immediately captivated by the story," he said.
So why did Roman wait until he was 95? He told Davey that there were "certain things I want the world to know".
He said he knew his true sexual orientation "when I was five years old".
And how did his family react to the news when he broke it to them?
"I just told them plain that I was born and was all my life gay. I told them the whole tragedy of my life and then they understood what happened to me," he replied.
"Can you imagine...90 years to be in the closet?"
Asked by Davey if he is now seeking a relationship with a boyfriend, Roman blushes, covers his face and looks away.
"Yes," he responds, avoiding eye contact with Davey.
"What type of guy do you go for? What does he look like?"
"I don't care," he says. "I don't look at the face. I look at the heart. Somebody to lean against. Somebody who feels the heart ticking."
And finally, now that he has let the world know his tale, what is he looking to gain?
"I want to go to sleep [and] have somebody close to me. Not for any other reason, but to be sure that someone cares."
Speaking to the BBC, Davey said he wanted his audience to witness Roman's "complex" story.
"On the one hand, it's the triumphant story of a 95-year-old man coming out of the closet and shedding the weight of a nine-decade secret...on the other hand, Roman's story is also deeply emotional and, at times, quite difficult."
"At some level, it's the story of lost opportunities. You can't help but wonder, had the circumstances been different how Roman's story could have ended differently.
"And you also feel for Roman's wife. While they undoubtedly loved each other in a deep way, both Roman and his wife deserve passion and sexual intimacy. Did they have that despite Roman being gay? I don't know."
But there is something "fundamentally human" about Roman's experience, he says.
"It's a simple yearning that drives all of us. In it, we see Roman's humanity. And we see ourselves."
Roman's grandson Brandon is making a film about his grandfather's story and the complexity of love, marriage and deeply held family secrets called "On My Way Out".
And Davey says the response he has received since he uploaded the video has been "overwhelming".
"Since posting the story, I've received an overwhelming response from viewers ranging from joyous to tearful. I'm not sure if Roman has seen the video, but I'm sure he'd be moved by the response."
---
A cuppa coffee, Tom Hanks style
The White House press corps had an espresso this morning, courtesy of Tom Hanks.
The actor, 60, reportedly had an espresso machine especially delivered to the White House press corps yesterday.
While this is the third time the actor made such a gesture, this time around the gift came with a note.
It read: "To the White House Press Corps, Keep up the good fight for Truth, Justice and the American Way. Especially for the Truth part."
The note included an illustration of American soldiers, entitled "Fresh, Spirited American Troops" by cartoonist Bill Mauldin. The caption said: "Fresh, spirited American troops, flushed with victory, are bringing in thousands of hungry, ragged, battle-weary prisoners."
Mr Hanks also tweeted the cartoon on his account, saying: "Artist Bill Mauldin got it right. Hanx."
CNBC reporter Eamon Javers tweeted a photo of the machine, saying: "@tomhanks has donated another coffee maker to White House press corps break room, and ppl are lining up to have a cup and take a pic."
NBC correspondent Peter Alexander tweeted the development as "breaking news".
His tweet, which was 'liked' 18,000 times, included images of the machine and note, added: "Come for the coffee...stay for his note."
---
You might also like
---
ABC reporter Jordyn Phelps said that the White House press corps was "grateful" for the new machine.
"Not only a great actor...but a man who understands the importance of caffeine at exhausting times...", BBC's North America editor Jon Sopel tweeted.
Mr Hanks told the BBC before the US election in October 2016, that he thought it would be a "dark day" if Donald Trump won.
The actor also called the president a "self-involved gasbag", adding that he would be voting for Hillary Clinton because she was "wildly qualified" for the role.
Though his comments are unlikely to have made President Trump happy, the actor has certainly drawn smiles on the faces of journalists at the White House.
Time for an afternoon injection of caffeine. Coffee, anyone?
---
Saudi Twitter users call for troops' benefits to be restored
Saudi Twitter users are calling for discounted allowances to be restored to their country's servicemen.
In September 2016, Saudi unveiled its first public sector pay cuts during a time of low oil prices.
And the move appears to be taking a toll on soldiers, who some social media users say are living in "difficult conditions".
An Arabic-language hashtag calling for the benefits to be restored to troops was used nearly 40,000 times in a day.
"What is happening to soldiers is demoralising and against their rights," one Mecca-based Twitter user said.
Another added that the kingdom should abolish the General Authority for Entertainment and instead give all its money to the military servicemen.
The entertainment authority was founded in May 2016 with the aim of bringing fun into Saudi lives, but within limits.
The authority recently said that the country's first ever Comic Con violated the authority's terms in some aspects.
Tweeting in support of the troops, user Abdelaziz Bin Abdallah said: "They sleep in camps, wake up to the sound of bullets, lives are taken in front of them, while we sleep in our homes. Don't they deserve their allowances back?
One account which says its "message is to demand the wasted rights of the Saudi public" posted the tweet: "Some of the retired military officials make 1,800 riyals [390 GBP]. The smallest military salary for a retired military official in the Emirates is 10,000."
The account added: "The basic salary for our troops is 3,600. The basic salary for the Emirati soldier is 14,000. The basic salary for a Qatari soldier is 19,000."
Saudi Arabia has been leading a military campaign against Houthis in Yemen since 2015.
The Saudi king is currently on a month-long Asia tour, having arrived in the Indonesian capital earlier this week with luxury goods and a 620-strong entourage.
---
Sir Ian's award presentation advice
Sir Ian McKellen may not have had much to do with the now infamous blunder at last weekend's Academy Awards which saw La La Land announced as best picture winner instead of Moonlight, but he has some helpful advice.
The legendary actor, best known for his roll as Gandalf in the Lord of the Rings trilogy, took to Facebook yesterday to share his thoughts about the moment fellow actors Faye Dunaway and Warren Beatty read out the wrong envelope.
"Dear Faye and Warren," he said. "Next time, do what I always do when presenting."
And the precious advice?
"Backstage, before you go on, slyly and gently prise open the envelope and sneak a preview of its contents.
"If anyone asks what you are up to, explain you may need to check the pronunciation of the winner's name or indeed who the winner actually is!"
It comes after reports that the two accountants thought to be responsible for the mishap have had to deploy bodyguards due to "death threats".
By the UGC and Social News Team, Additional reporting by BBC Monitoring's Middle East team