Bana Alabed asks Theresa May to help Syria's young, and Stephen King pens Twitter-Trump horror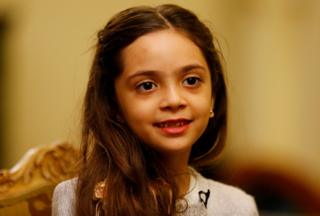 A young Syrian girl known for her tweets from Aleppo asks Theresa May to help her country's children, and US horror writer Stephen King tweets a story, Trump-style.
Aleppo girl asks Theresa May to send "food, medicine" to Syrian children
A seven-year old girl, known around the world for her tweets from Aleppo, has called on UK Prime Minister Theresa May to help Syria's children.
Bana Alabed shared an image of the hand-written letter, which she tweeted to Mrs May.
She wrote: "Dear Theresa May, I am writing this letter with the help of my mother.
"I am looking for help for the suffering of the people of Syria. Can you send them medicine, doctors, water and milk?
"Have you seen the young children who are weak and dying because of hunger? I have seen them.
"They live if we give only food but no one cares. I am very sad.
"Promise me you send them food and medicine now please. Don't forget them.
"Love to you, Dear Theresa May."
Bana was evacuated from eastern Aleppo in December 2016 after government forces started closing in on rebel-held areas.
She and her family now live in Turkey. Bana and her younger brother also met Turkey's President Recep Tayyip Erdogan in Ankara after they fled Syria.
Some have questioned the authenticity of Bana's account, which is moderated by her mother, claiming that she had initially been tweeting from outside Syria.
A thorough investigation by citizen-journalist site Bellingcat concluded that the tweets on the account were indeed coming out of eastern Aleppo.
---
You might also be interested in:
---
This isn't the first time that the young girl has addressed a world leader.
Last week, Bana shared a letter she wrote to Syrian President Bashar al-Assad and his ally Russian President Vladimir Putin.
In it, she wrote: "My name is Bana Alabed from Syria. Stop the bombing now, save the children of Syria and go to jail for killing my friends."
Earlier this year, Bana also authored an open letter to US President Donald Trump.
Her mother, Fatemah, sent the text of the letter to the BBC in which Bana called her Syrian hometown the "city of death".
She also said that children across Syria were "suffering because of adult people".
Bana addressed President Trump: "I know you will be the president of America, so can you please save the children and people of Syria? You must do something for the children of Syria because they are like your children and deserve peace like you."
The Foreign Office has previously said that British aircraft would risk being shot down if they dropped aid to Aleppo.
And the government says that it "reluctantly concluded that airdrops over Syria would pose too great a risk in the current circumstances".
Will Mrs May respond to Bana's appeal?
---
A Twitter horror story, set in the White House
US horror author Stephen King may have written his latest story in a series of four tweets - inspired by US President Donald Trump.
Mr King launched a series of tweets over the weekend after the US president accused former President Barack Obama of tapping his phone.
In the story, Mr Obama is said to have planted wire taps in the White House and stolen strawberry ice cream.
Mimicking Mr Trump's "writing style" on Twitter, Mr King wrote:
"All politics aside, the Trump administration reminds me of that Tom Arnould movie, THE STUPIDS. Really, you guys, this is embarrassing.
"Not only did Obama tap Trump's phones, he stole the strawberry ice cream out of the mess locker.
"Obama tapped Trump's phones IN PERSON! Went in wearing a Con Ed coverall. Michelle stood guard while O spliced the lines. SAD!
"Trump should know OBAMA NEVER LEFT THE WHITE HOUSE! He's in the closet! HE HAS SCISSORS!"
---
You might also like:
---
The series of tweets were liked and retweeted thousands of times.
But not everyone took lightly to Mr King's newest work.
One Twitter user and former Stephen King fan responded: "I buy your books when a new one comes out. But NOT anymore! So tired of cry babies that don't get their way!"
Another user called on Mr King to "stick to horror".
Mr King has been a vocal critic of President Trump since the start of his presidential campaign.
In October 2016, he authored a tweet in which he said: "My newest horror story: Once upon a time there was a man named Donald Trump, and he ran for president. Some people wanted him to win."
Mr King has also reworked nursery rhymes into his anti-Trump vitriol.
Last week, King tweeted: "Trumpty-Dumpty promised a wall. Trumpty-Dumpty had a great fall. Mexican woman & Mexican men wouldn't put Trumpty together again."
By the UGC and Social News team