Online petition calls for Wayne Shaw 'justice', and author's spat with Mumbai police over obesity
By BBC News
Staff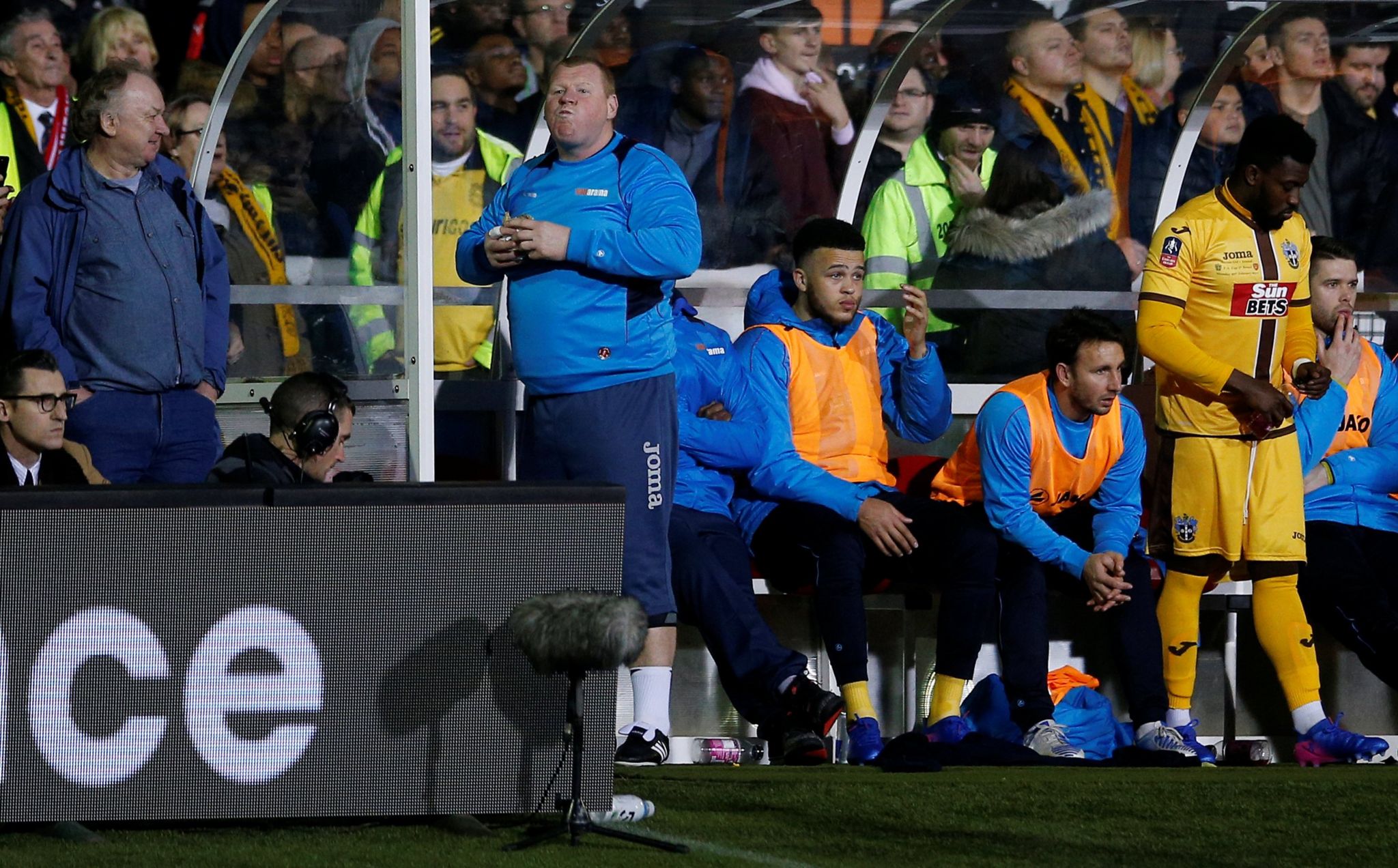 A petition has gone up in defence of Sutton United's pie-eating reserve goalkeeper Wayne Shaw, and Indian author Shobhaa Dee has found herself in a Twitter dispute with Mumbai Police.
Online petition demands 'justice' for Wayne Shaw
An online petition has been launched to call for the reinstatement of Sutton United's reserve goalkeeper Wayne Shaw, who resigned yesterday for breaking the Football Association's betting rules.
Shaw, 45, ate a pie by the substitutes' bench during his side's FA Cup match against Arsenal on Monday evening. A bookmaker had offered odds of 8-1 before the game that the goalkeeper would eat a pie on camera.
The petition says Shaw was "unjustly" sacked. "Justice must prevail and Wayne must be reinstated to the sub's bench." it adds.
A worldwide ban on betting was introduced in 2014 which prohibits anyone involved in a football game from betting directly or indirectly on a match.
Shaw told BBC Radio 4's World at One programme that he in fact ate a pasty and the incident was "just a bit of fun and me being hungry".
But it was Guido Fawkes who took heed. The blog previously launched a petition demanding the BBC reinstate former Top Gear presenter Jeremy Clarkson after he was suspended and subsequently dropped over a "fracas" with a producer. Garnering over one million signatures, the campaign culminated in a tank ridden by a man dressed as the Stig appearing outside the corporation's central London headquarters.
And social media has its own take on the whole saga.
The host of ITV's Good Morning Britain Piers Morgan announced his "solidarity" with Shaw by eating a pie this morning.
While comedian Rob Beckett thought the news might not be all too depressing for Shaw.
"I can't wait for Wayne Shaw to do loads of pie adverts, become mega rich, then buy Sutton Utd. That would be the magic of the FA Cup," he tweeted.
Mumbai Police unhappy about 'misplaced' pun
A well-known Indian author has found herself in a Twitter spat with the Mumbai Police after her play on words about the shape of officers proved controversial.
She then sent out a tweet about tight security measures in the city while the polls were open, accompanied by a photo of an obese official.
"Heavy police bandobast in Mumbai today!" she said in a pun attempt.
But she immediately received a response from the Mumbai Police who clearly were not pleased.
"We love puns too Ms De but this one is totally misplaced. Uniform/official not ours. We expect better from responsible citizens like you," the department said in a tweet.
And while some users complained about "body shaming", others pointed out that the image of the official is an old one that has previously been used in online memes.
Ms De said her initial tweet was not meant to be offensive, but advised the man in the photo to "consult a dietician".
La La Land gets 8-bit treatment
Hollywood musical La La Land made history at the Golden Globes last month and is odds-on favourite to win the prestigious Best Picture award at this Sunday's Oscars, but the film has now received a video game makeover.
The CineFix YouTube channel, which is popular among film fans, has uploaded a video that recreates La La Land in the format of an old 8-bit video game.
It is divided into four main levels coupled with bonus rounds, and includes the two main characters of the film Mia (played by Emma Stone) and Sebastian (played by Ryan Gosling) in a storyline loosely based on the original plot.
The game includes images of Sebastian playing the piano in a jazz club, and Mia - who is an aspiring actress in the film - getting an audition.
It also includes some of the songs in the film remixed into 8-bit tunes.
At the end of the game, Mia and Emma are each given the option to "choose their destiny". Mia chooses to become a famous actress, while Sebastian opts for owning a jazz club.
The CineFix channel has previously created 8-bit versions of some other popular films like The Matrix, Home Alone and Pulp Fiction.