The mystery of the anti-UKIP Twitter machine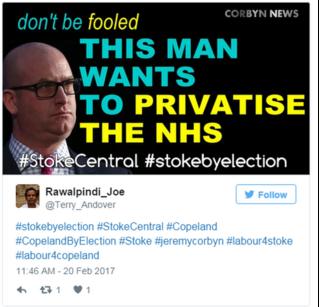 Why is a strange network of Twitter accounts, usually the source of pro-Russian messages, now pumping out tweets about a very specific British election?
They number in the dozens and they are targeting the pro-Brexit UK Independence Party and in particular its leader, Paul Nuttall.
This odd collection of Twitter accounts is obsessive. They co-ordinate their messages. And they are also praising Labour leader Jeremy Corbyn ahead of Thursday's by-election in Stoke-on-Trent Central. There's no evidence that they are connected to Labour or any other political party, however.
Nuttall, who was elected UKIP leader in November, is contesting the seat, which has traditionally been solid for Labour.
The Twitter network appears to be attempting to try to swing voters by coordinating its messages, firing out memes which play up anti-UKIP news in quick succession:
There is of course nothing unusual about political messaging on Twitter - and these accounts don't have big numbers of followers or retweets - but the strange shift from pro-Russian to anti-UKIP messaging has caught people's attention.
The network was initially uncovered by Alex King, an independent researcher who tweets as @GlasnostGone. King tracks Russian propaganda on social media and was an organiser of the campaign to free a Ukrainian pilot, Nadiya Savchenko, who was captured by pro-Russian forces battling in Ukraine in 2014.
---
Find out more
Full analysis of the Stoke-on-Trent Central race from BBC Politics
Trump's tweet lead was 'swelled by bots'
Visit the Trending Facebook page
---
King noticed patterns that suggest the accounts are part of a co-ordinated campaign rather than driven by individual users. For instance, the accounts in question use stock pictures as profile images. In addition to the memes they litter their tweets with hashtags, apparently to try to influence the conversation around specific topics. Bots - automated Twitter accounts - pushing political messages tend to use more hashtags and push repetitive messages.
King initially found the accounts were putting out pro-Russia and anti-Ukraine memes, and identified them in a YouTube video. For example:
Several of the accounts put out such messages almost exclusively until early February, when they started to include the anti-UKIP and pro-Labour tweets.
It's difficult to tell who is behind the accounts or whether they are controlled by one person or several. BBC Trending sent messages to the accounts involved. None responded. Trending has also approached UKIP and Labour for comment, but neither party has yet responded.
The full list of candidates in the Stoke-on-Trent Central by-election is as follows, in alphabetical order by surname:
Mohammed Yaqub Akram - Independent
Zulfiqar Ali - Liberal Democrats
Jack Brereton - Conservatives
The Incredible Flying Brick - Official Monster Raving Loony Party
Adam Colclough - Green Party
Godfrey Davies - Christian Peoples Alliance
Barbara Fielding - Independent
David Furness - British National Party Local People First
Paul Nuttall - UKIP
Gareth Snell - Labour
Blog by Mike Wendling
Next story: America's extremist battle: antifa v alt-right
In a divided America, two groups at the extreme ends of the political spectrum are doing battle online, and on the streets.READ MORE
You can follow BBC Trending on Twitter @BBCtrending, and find us on Facebook. All our stories are at bbc.com/trending.