'Refugee' Julian Assange back on Twitter and Trump voters shrug off Watergate analogy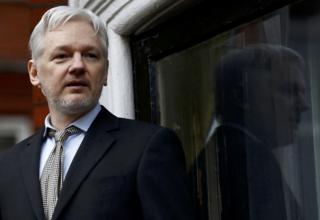 Wikileaks founder Julian Assange has reappeared on Twitter after five years to quash rumours about his death and Donald Trump's voters criticise veteran news anchor Dan Rather for his comparison of Michael Flynn's resignation to Watergate.
Assange tweets from embassy
Julian Assange is back. He has reactivated his Twitter account after five years to tell us that he is alive and well.
Mr Assange, 45, has been a recluse in the Ecuadorian embassy in London since 2012 to avoid extradition over sex assault allegations.
Never one to shy away from controversy, the Australian computer programmer used his first tweet in five years to dismiss rumours about his health:
And if anyone was in doubt about Mr Assange's yet to be verified account which was first set up in 2011, Wikileaks reassured us that it was the man himself.
But what caught the eyes of many observers was Mr Assange's reference to himself in his profile as a "refugee" who is "Picking the lock to the chain that enslaves mankind: ignorance".
Mr Assange has already racked up more than 45,000 followers in just one day. The account could become the focus of politicians and journalists across the globe very soon, depending on how just busy Mr Assange chooses to be.
---
Shades of Watergate, says Rather, but Trump fans disagree
Veteran US journalist and former CBS news anchor Dan Rather has said on Facebook the "Russia scandal" in President Donald Trump's administration is "at least as big as" the Watergate scandal in the 1970s which led to the resignation of Richard Nixon.
But Mr Trump's supporters are saying on social media that Mr Rather, who covered Watergate, has reported false stories in the past and has a history of "liberal bias".
Mr Rather, 85, stepped down from his post at CBS in 2004 after being embroiled in controversy over a report claiming former President George W Bush had received favourable treatment during his service in the National Guard. It was later revealed that the report had been based on unreliable documents.
His comments come after former national security adviser Michael Flynn's resignation yesterday over allegations he misled Vice-President Mike Pence and other senior White House officials about discussions he had held with the Russian ambassador before his appointment.
It emerged later that President Trump had been privy to Mr Flynn's phone calls as early as late January.
Mr Rather wrote on his Facebook page: "Watergate is the biggest political scandal of my lifetime, until maybe now."
"On a 10 scale of armageddon for our form of government, I would put Watergate at a 9. This Russia scandal is currently somewhere around a 5 or 6, in my opinion, but it is cascading in intensity seemingly by the hour," he added.
His post has so far been shared over 92,000 times and attracted more than 9,300 comments. However, Mr Trump's supporters are offering their own take.
"Do they think Americans have amnesia and can't remember that Dan Rather lied and was disgraced for it?" asked one Twitter user.
Many other conservative users have claimed that Dan Rather from CBS because of "fake news", accusing Mr Rather of being "dishonest".
---
Is the Nokia 3310 set to return?
Fans of Nokia's 3310 phone may soon be treated to a modern version of the model which was once the world's best-selling mobile phone.
There are rumours that the Finnish telecoms giant Nokia will unveil a brand new design of the 3310 at the Mobile World Congress later this month.
The phone was known for its battery life and build which made it resilient to physical damage. Originally released in 2000, Nokia retired the model five years later.
The Nokia 3310 has been trending all day and the excitement among some people is palpable.
"I am here for the Nokia 3310 as my 3rd phone. Will carry them all at once," tweeted one user.
"The Nokia 3310 being re-released? Make it so!" said another user.