Model sticks up for Melania Trump and purple bird goes viral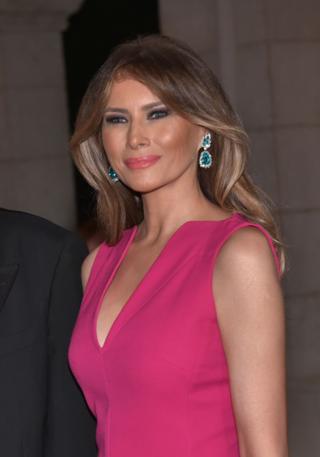 A model defends Melania Trump against "sexist" comments and a headbanging purple bird is being used to spam people on Facebook.
Model calls out 'sexism' against Melania Trump
Some women are voicing support for Melania Trump on social media after a model and actress revealed "sexist" comments allegedly made by a New York Times journalist about the First Lady.
London-born Emily Ratajkowski, 25, who had previously backed the presidential campaign of Democratic Senator Bernie Sanders, claimed on Twitter that during a private conversation, a New York Times journalist had used an inappropriate term to refer to Mrs Trump.
Ms Ratajkowski, who famously appeared in Robin Thicke's Blurred Lines music video, said such comments were "disgusting" and equated to "slut shaming".
Ms Ratajkowski later clarified that the journalist in question was a man. A number of women have since declared their support for Mrs Trump, with some calling such language "anti-feminist".
Mrs Trump praised Ms Ratajkowski for standing up for another woman.
---
Why is there a purple bird all over Facebook?
If you've been using Facebook in the last couple of days, you might have noticed that a purple bird has taken social media by storm; appearing in different shapes and forms everywhere, from dedicated meme pages to the comments section of almost every popular page on Facebook.
If you've spotted it, you might be wondering where it has come from and why it is appearing on your screens. Fear not, we have some of the answers. But it's a bit complicated...
The chances are, you have specifically come across this one, which looks like a purple bird headbanging like a heavy metal fan.
Well, that bird is part of a set of stickers known as Trash Doves, originally designed by Sydney Weiler, an illustrator and animator based in Florida. She announced on her Twitter account on 31 January that she was adding the set to Facebook, advising her followers to use them to "spam friends and enemies".
But things went properly gung-ho when a popular Facebook page in Thailand uploaded a video, a "fusion" of the headbanging bird and a dancing cat set to dance music. No, we don't know what it means either. However, it went viral in Thailand and has since been viewed over four million times since it was uploaded a week ago.
Thai users then found out about the sticker set, particularly the headbanging bird, and began using it in every comments section to spam each other.
Why did a purple bird violently thrusting its head forwards and backwards capture the imagination of Thai Facebook users? No one seems to know. But it did.
When the purple bird began headbanging in the comments section of popular Facebook pages, Thai media started reporting it; and before you knew it, it went viral.
The purple bird can now be seen all over Asia, Europe, the US and Canada.
Surprised by the unexpected outpour of love for her creation, Ms Weiler designed a special sticker and video to thank Thai users.
If you find the purple bird annoying, you are not alone. There is now a petition page calling for the purple bird to be banned. So far, it has only attracted 53 signatures. People genuinely seem to love the headbanging bird, they really do.
---
What's with queues outside Subway?
People noticed long queues outside Subway stores across the UK this lunchtime because of a Valentine's Day meal offer.
So naturally, they shared photos of the scenes they witnessed on social media.
Some people are sympathetic to Subway staff who could be experiencing a busy afternoon.
Yet it's causing some people to transmit negative vibes on Valentine's Day.