Alt-right's war on Netflix and Trump court memes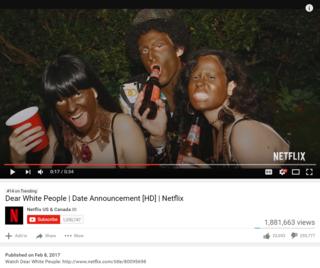 Alt-right activists in the US are cancelling their Netflix subscriptions over a new series dubbed Dear White People, and President Donald Trump's "see you in court" tweet has led to memes galore.
Alt-right boycotts Netflix but there's a plot twist
The alt-right's boycott of Netflix over an upcoming series about race relations got off to a strong start, but things didn't exactly go according to plan after a small mistake left the campaign's leader in trouble.
Netflix recently released the first trailer of its new series Dear White People on YouTube. Set to be released on 28 April, the series is based on a critically-acclaimed satirical film of the same title released in 2014.
According to Netflix, the series "satirises 'post-racial' America as students of colour navigate a predominantly white Ivy League college".
The short trailer, viewed more than two million times so far, features a young African American woman speaking about "unacceptable costumes" and includes images of white men and women in blackface-themed parties.
Alt-right figurehead Timothy Treadstone, who is based in Los Angeles and known as Baked Alaska on Twitter, said he had cancelled his Netflix membership in protest against the series, which he described as "anti-white".
Other members of the alt-right followed his lead, declaring that they were also cancelling their subscriptions in protest. They also demanded fellow members hit the dislike button below the official trailer to demonstrate their dissatisfaction with the show's "racism". Some even suggested Netflix's shares were falling due to the number of cancellations.
But there was a small problem for Mr Treadstone.
Critics of the alt-right movement noticed his email was visible in the tweet, so they added him to "7,000 mailing lists", booked him in for a haircut session in Compton, and registered him with Planned Parenthood - the largest provider of abortion services in the US - and Human Rights Campaign, which provides support for members of the LGBT community.
"Life comes at you fast," was one savvy observer's reaction to it all.
---
See you in court... or shall we?
Last night, a US federal appeals court maintained a previous halt on President Trump's travel ban on citizens from seven majority Muslim countries.
Unsurprisingly, Mr Trump took to Twitter to voice his opposition to the ruling. No problems so far.
However, some of the president's opponents couldn't help but notice that a showdown in court had already occurred.
So, along came thousands of memes and tweets which invoked The Simpsons, the cult film Legally Blonde, a Friday night drinking session, Gene Wilder, Kermit the Frog, Super Mario, a cat behind a laptop, and The Fresh prince of Bel-Air.
And of course, comedians made their voices heard. Obviously.
---
Where are the blueberries?
Police in the Canadian port city of Hamilton, Ontario are currently investigating a theft worth nearly 100,000 Canadian dollars (£61,202).
And the stolen goods? Blueberries. Loads of them.
It is thought that the blueberries were stolen from a commercial lorry. The lorry has since been recovered, but the berries have not.
If this all seems a bit confusing, you are not alone. Canadians are confused too.
#BlueberryBandit soon became a trend in Canada. And people started creating all sorts of rumours about what had happened to the missing berries.
"I wanna know what $100,000 worth of blueberries looks like," said one. So do we, to be honest.
And it appears when it comes to fruit theft, Canada has some form.
Last year, someone stole nearly $50,000 worth of honeydew melons on New Year's Eve again in Hamilton. While in 2012, Quebec saw what was dubbed "the great maple syrup heist", where $18.7m worth of maple syrup was stolen.
"First there was that maple syrup heist, and now $100k worth of blueberries? Is some Canadian criminal cabal planning a pancake themed caper?" asked one Twitter user.