Letters to 'president Bannon' and Iranians for Trump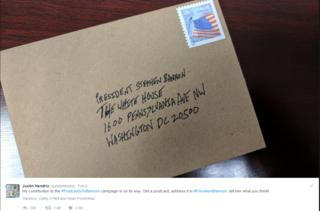 Donald Trump's critics are writing to "president Bannon" and conservative Iranians have launched a social media campaign to thank Mr Trump.
Postcards to 'president Bannon'
Critics of US President Donald Trump are posting letters to the White House to criticise him. But there's one caveat, they are referring to Mr Trump's chief strategist Steve Bannon as "president Bannon".
Mr Bannon, formerly the chief executive of the right-wing Breitbart News website, was recently elevated to the US National Security Council, a move which faced some criticism.
It was first suggested on Twitter that the best way to protest against Mr Bannon's perceived influence in Mr Trump's inner circle was writing letters to the White House.
Now, people are sharing photos of their letters using #PostcardsToBannon and #PresidentBannon.
One user was concerned about Mr Bannon's "management style":
Another said by writing to Mr Bannon she would "skip the middleman".
And one user said she was writing a "whole pack" of postcards, coupled with some stickers:
The only question is - will they receive a response?
---
Why are conservative Iranians pro-Trump?
You might think it would be bizarre for the vehemently anti-US religious conservatives in Iran to thank a US President. But they have now launched a hashtag to send their gratitude to President Trump for showing "the real face of America".
The campaign began immediately after Iranian Supreme Leader Ayatollah Ali Khamenei used the phrase yesterday in a speech in the capital Tehran.
"We are thankful for this person who has arrived [President Trump]. Our thanks is for making our life easy as he showed the real face of America," he said.
Many conservative users referred to reports that a five-year-old boy with an Iranian mother had been detained by the authorities at Washington Dulles International Airport.
"Our first mistake was to think the US would hold back after [nuclear] negotiations #Thank_You_Trump" posted one.
"There is no difference between the previous and current US administrations. Trump revealed the swamp which had been hidden in the past," wrote another.
---
How to steal a date with a tennis ace
How likely is it for an ordinary bloke in Chicago to secure a date with a tennis star on Twitter? Not as unlikely as you would think.
When New England Patriots were trailing by 25 points against the Atlanta Falcons during Sunday night's Super Bowl, Canadian tennis star and former Wimbledon runner-up Eugenie Bouchard, 22, thought a Falcons' triumph was a given. So she took to Twitter to share her thoughts about the game.
"I knew Atlanta would win BTW," she posted.
But a young American man had other plans.
"If patriots win we go on a date?" tweeted the man at Ms Bouchard. "Sure," replied the Canadian currently ranked 45 in the world, confident of her prediction.
Moments later, The Patriots produced a stunning comeback to win in overtime. And Ms Bouchard could hardly believe it.
"OMFG," she posted, before going on to ask the man where he lives.
It was only the next morning that Ms Bouchard realised what actually had happened:
True to her word, Ms Bouchard later declared that she would pay her dues.
All we can say to the young man from Chicago is: Well played, sir! Well played, indeed.