A BBC "spy" and the tip of the iceberg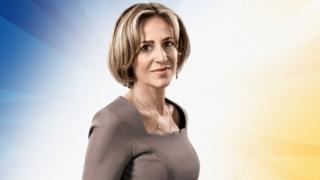 We have a spy in the BBC house and is it time to say bye bye to Caesar Salad?
No, Emily Maitlis does not run CIA 'black sites'!
How do journalists react when the head of one of the world's largest human rights organisations confuses a BBC news presenter for a leading CIA officer? Well, that's what Emily Maitlis found out this morning.
In a tweet, Human Rights Watch chief Kenneth Roth referred to an Intercept piece in which Gina Haspel, a veteran intelligence officer who was recently picked by US President Donald Trump as the new deputy director of the CIA, has been accused of running a "black site for torture".
Despite the fact that you would think it unlikely that you would find a photo of a CIA officer on the internet, Mr Roth, who is based in New York, used a photo of Newsnight anchor Ms Maitlis in his tweet instead of Ms Haspel:
Surprised to find her photo in a tweet about the CIA deputy head, Ms Maitlis tweeted: "Erm. This is me. And I'm pretty sure I never ran a CIA black site for torture.. #Newsnight"
But that was by no means enough. Fellow journalists saw this as too good an opportunity to miss, and decided to keep Ms Maitlis in the spotlight.
Times columnist and member of the House of Lords Daniel Finkelstein had his suspicions. "That's what you'd have us believe Emily. But someone who ran a CIA black site would pretend just that. You are hiding in plain sight," he said.
"Prove it," tweeted a Guardian reporter at Ms Maitlis.
"Are you absolutely sure?" asked Channel 4 presenter Matt Frei. "Well, you would say that, wouldn't you," posted a BuzzFeed journalist.
"'Pretty sure'. So not a flat denial then..." said Labour MP Wes Streeting.
Amid the wave of inquisitive tweets aimed at Ms Maitlis, a BBC colleague appeared to have solved the mystery:
The photo in Mr Williams' tweet seems to be from a Daily Express piece about a recent Newsnight interview with Sebastian Gorka, the newly appointed deputy assistant to President Trump.
A few hours later Mr Roth apologised and deleted his original tweet. But it was too late for Ms Maitlis whose fellow journalists had already made the most of the error.
---
#Lettucecrisis
We hope by now you've got used to it. Yes, the UK has another vegetable crisis, but this time it's only the tip of the iceberg.
But come on Mr Einarsson, we know you are one of the few lucky ones, but it might be too early to trade your "partially used" lettuce for a hatchback.
Yes, some supermarkets are rationing broccoli too but let's not call it a "#brocxit" yet.
And putting down "stocking up on vegetables" to get a special leave request might also be hard to sell - for now.
We are afraid "two green starbursts, chewed and smoothed out" won't count as a lettuce, but have a look at this "gorgeous" red cabbage, as it might be a good alternative.
You can also follow the advice of Chef Michel Roux Jr and go for more seasonal choices like sprouts, kale and root.
Or heed the calls of those demanding that it's time to think about supporting local farmers or even growing your own.
In these difficult times please don't blame the rabbits ... it's the weather!
And remember....lettuce keep things in perspective.
---
That's great, but who will play Lennon?
John Lennon fans are excited. No, he's not being reincarnated. It's all to do with a film currently in the works.
It was reported this week that Lennon's widow and avant-garde artist Yoko Ono is co-producing a biopic about her late husband which will focus on their relationship and anti-war activism.
And as one would expect, many fans are already counting the days.
"This will be a must-see for any Beatles fan," tweeted a rock radio station in Chicago.
"It seems great! For me every little thing to preserve and remember Lennon are welcome," said another.
Beyond the visible excitement, some have begun speculating about the film's content.
"Who'll play Beatles icon?" asked one. Another user suggested the film might reveal new details about the latter stages of Lennon's life.
A fan said Lennon's anti-war activism could be an inspiration for children.
However, some were not entirely supportive of the project and Ms Ono's involvement.
One user was sceptical of Ms Ono's motives, while another hoped the film would include Ms Ono's "stalking" of Lennon.
The film is likely to remain a subject of discussion among fans and critics alike until its official release.