#BlackoutTrump and British MP in honour killings controversy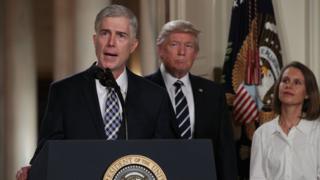 Tuning in to watch or boycotting President Trump's Supreme Court announcement, should the term honour killings apply to men too, did the Moroccan king shed some tears and mysterious resemblance.
Is this President Trump's next "reality show"?
#SCOTUS has been trending today as people express their joy and anger over President Donald Trump's pick for the Supreme Court.
But not everyone was tuning in to watch the much anticipated announcement, on Tuesday night Mr Trump's detractors were using #blackoutTrump to encourage others to watch alternative programmes or do "something meaningful".
The element of suspense has clearly been on Mr Trump's mind as he tweeted the build up to the revelation but for some live streaming a major announcement was a step too close to the drama normally associated with The Apprentice.
New York Times columnist Roger Cohen in his tweet about the announcement added "ratings are all he lives for."
But while some felt the reality show style was inappropriate, others thought it reflected his desire to speak ""directly to the people".
For Mr Trump's supporters calls to boycott the announcement of Neil Gorsuch as a new Supreme Court judge was a big fuss over nothing.
"Leftists, how about waiting until President Trump actually announces his #SCOTUS pick before losing your minds?" responded one fan.
---
British MP under fire
A conservative MP's opposition to a private bill that seeks to protect women against honour killings has faced backlash on social media, with some men arguing honour crimes can also apply to male victims.
The bill, proposed by fellow conservative Nusrat Ghani, suggests prohibiting the use of the term honour crime in official publications.
But Philip Davies MP, who sits on the Women and Equalities Committee, opposed the bill on the grounds it does not mention "honour-based violence against men".
As Davies stood on his feet to speak, BuzzFeed UK's news editor Alan White tweeted: ""It is with a heavy heart that I must announce that Philip Davies MP is at it again."."
Others also disagreed with the MP's stance saying his position was not defensible.
But there was some support for Mr Davies on Twitter: "Good on Philip Davies MP for standing up for the rights of all victims of domestic abuse rather than just one gender".
---
Tears of victory?
Moroccan social media has been buzzing with news about the country's return to the African Union after it left in dispute in 1984.
Many are sharing pictures of their king's participation in the union's summit held in Adis Ababa with much praise.
But it was one picture of the summit that proved particularly intriguing.
The picture, in which King Mohammed VI looks as if his cheeks are wet with tears after he delivered a speech to the union members was shared on a Facebook page known for publishing photos of the king, sometimes exclusively.
It was initially captioned: "the tears of coming back to the African homelands".
Comments applauding the king and his tears of "nobility" and "victory" poured in.
And soon the issue of the King's tears became an online discussion point.
One blogger wrote that the king "could not hold in the tears after his solemn speech before heads of state of the African Union on 31 January".
But despite the reaction being overwhelmingly supportive the page admin's later clarified that what appeared to be tears was "clearly only the reflection of light on the king's face."
---
Finding out you look like Cara Delevingne's dad
Doppelganger or time traveller? Social media users are joking about one chap's uncanny resemblance to the father of fashion model and actress Cara Delevingne.
After Delevingne shared a photo of her dad on Instagram, Seth Hamby took a selfie of himself and tweeted it alongside the picture.
"Who would've guessed I'm @Caradelevingne's dad?" he said.
The two men look so alike some are joking that Mr Hamby must be the same person. "HOW IS THIS EVEN POSSIBLE?!!! Are you a time traveller?!" asked one.
"Government is gonna debate this bc it's a clone bet," said another.
It's neither. Just one of nature's wonders!
---