Why are Trump opponents deleting their Uber accounts?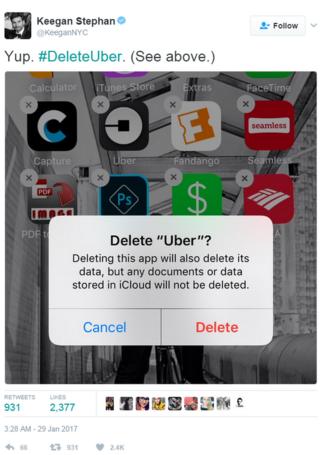 Protests over Donald Trump's executive order banning nationals of seven countries from the US have engulfed one of Silicon Valley's biggest companies - even though Uber's chief executive has come out against the ban.
As anti-Trump activists gathered at US airports to voice their opposition to travel restrictions, a union representing New York City taxi drivers decided to weigh in.
The New York Taxi Workers Alliance (NYTWA) called for an hour-long halt on pickups from John F Kennedy International Airport, the city's busiest.
Demands for Uber rides from the airport increased and the company's surge pricing - where fares increase automatically according to demand - kicked in, until Uber announced on Twitter that it would suspend the surge.
The move was interpreted by some Trump opponents as an attempt to break the hour-long strike, and soon the hashtag #DeleteUber was trending on Twitter.
The campaign was kicked off by a Twitter story by prolific user @Bro_Pair, and by Monday more than 300,000 messages had been sent using the tag.
Soon protesters were sharing screenshots of themselves removing the Uber app from their phone, and of negative feedback messages sent to the company.
But Uber insisted that it was not trying to break the strike. Uber chief executive Travis Kalanick is a member of Trump's business advisory council and will be meeting with the president on Friday, details that were also seized upon by protesters.
But in a Facebook post on Sunday, Kalanick hit out at the executive order.
"Today we need your help supporting drivers who may be impacted by the President's unjust immigration ban," he wrote. Kalanick says his company is creating a $3 million legal fund to help drivers with immigration and translation services.
---
More from BBC Trending
Visit the Trending Facebook page
---
As BBC Trending has previously reported, conventional taxi drivers in many cities have been at odds with the high-tech competition.
The New York taxi drivers' union is currently involved in several disputes with Uber. The organisation is supporting a class-action lawsuit brought by Uber drivers against the company which alleges that Uber misclassifies drivers as independent contractors rather than employees. And The NYTWA is also lobbying against proposed state laws that would benefit Uber and other ride-sharing companies.
The union didn't explicitly endorse the #DeleteUber hashtag, but in an interview Bhairavi Desai, the NYTWA executive director, criticised the company, saying: "It's not shocking that Uber would put greed above social principles."
Uber wasn't the only company to be caught up in protest politics. After Starbucks promised to to hire 10,000 refugees in response to Trump's plan, the hashtag #BoycottStarbucks hit Twitter's list of top trends, propelled by thousands of messages mostly from Trump supporters.
Next story: How to stop fake news
Fake news became a huge issue during the US election campaign. But could there be a solution to stop it from spreading? READ MORE
You can follow BBC Trending on Twitter @BBCtrending, and find us on Facebook. All our stories are at bbc.com/trending.