#HolocaustMemorialDay, unfortunate misspelling and Trump's 20% tax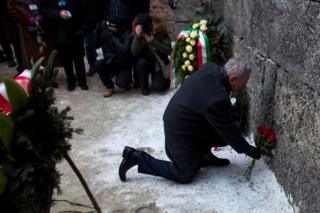 Social media commemorates Holocaust Memorial Day, Theresa May's name misspelled, Americans debunk Trump's 20% border tax, Chinese shoe-seller and "chicken dances" for the Chinese New Year.
It's Holocaust Memorial Day today. People marking the anniversary are warning that such atrocities do not happen over night and that the rhetoric of hate, if allowed to grow and flourish, could lead to history repeating itself.
Many shared the saying "the holocaust didn't begin in the gas chambers it began with words...". With one of the most retweeted posts, reminding followers "Words of hate matter!".
A video produced by the human rights group Rights Info resonated widely on Twitter. Many shared the post and its message that today is "A reminder that human rights must be defended".
As many as six million Jews and millions of other people were mass murdered in the lead up to and during the World War Two.
In an attempt to explain the magnitude of the tragedy, some posts suggested it would take years of silence if "we held one minute of silence for every victim".
Many noted that while it was intolerance that cost millions of lives, it was tolerance and acceptance that saved others.
Former US Ambassador to the Czech Republic, Andrew Schapiro, tweeted a picture of a visa, adding:
'1939 US visa that saved my mom's life. Other relatives couldn't get out. Shameful that today we're closing doors'.
Another user pointed out that Holocaust Memorial Day should be a time to remember how much those who managed to flee Nazi slaughter and seek refuge elsewhere had contributed to their host countries.
---
May's visit
An unfortunate misspelling of the name of Prime Minister Theresa May - yes White House staff you read that right, Theresa - as she visits the US captured the imagination of social media users.
In her speech addressing US politicians in Philadelphia on Thursday, Mrs May stressed the "special relationship" between the United States and the UK eight times.
But for some, the misspelling of the UK PM's name is an indication that the close ties she praised are not necessarily mutual.
"The relationship, apparently, isn't quite special enough for the White House to spell British Prime Minister Theresa May's name correctly," said one widely-shared post.
And Buzzfeed political editor Jim Waterson offered a numerical comparison. "Mentions of 'special relationship' in Theresa May's speech: 8; Number of times Theresa May's name was misspelled in White House briefing: 3".
Some highlighted that the unfortunate misspelling, which rendered the PM's first name Teresa, might go beyond a simple spelling mistake and create a case of mistaken identity with another Teresa May, this one a retired glamour model.
But the apparently genuine, if unprofessional mistake, was not the only controversy surrounding the visit.
Many social media users pointed to a now-deleted 2015 tweet by conservative MSP Ruth Davidson in which she borrowed Shakespearian language to articulate her not very high views of the now US President Donald Trump.
Some compared such views with ones Davidson expressed praising May's US visit arguing this was nothing less than hypocrisy.
---
So who's paying for the wall?
Building a US southern border wall and making Mexico pay for it was one of US President Donald Trump's key campaign promises. As Mexico insisted it was not paying for the wall, Mr Trump bounced back "whether it's a tax or whether it's a payment" it will happen.
Fulfilling the first part of the pledge has been set in motion with Mr Trump issuing an executive order for the wall to be built. As for the funding, Mr Trump's administration seems to think that a 20% tax on imports from Mexico is one option to make Mexico pay. The Internet disagrees.
The view that the proposed tax would translate into "a massive new tax on fruits and vegetables" echoed the concerns of many.
"When your grocery bill goes up 20% and the price of tequila is through the roof, you can thank Trump's 20%," said one Twitter user.
But some thought the announcement was more of a reactionary move to the Mexican President cancelling his planned visit to the US, rather than a well-thought out policy.
"MexPrez hurt Trump's feelings. Thin-skinned Trump hurries out 20% border tax as response. It isn't a serious proposal, it's a tantrum," said one shared post.
Some took a light-hearted approach. "As a comedian, I support Trump's 20% tax on produce from Mexico: If tomatoes are more expensive, people are less likely to throw them at me.".
Although there was some who thought the proposal was nothing less than "genius".
---
The snow shovel-proof shoes!
Chinese social media users are going mad for a shoe-seller in southern China who beats his shoes against a snow shovel to prove their sturdiness.
A video showing his bizarre selling technique which also includes "eloquently" quoted phrases, interspersed by shoe-beating has received over eight million views on the video sharing website Miaopai.
When it hit Weibo, users were left impressed, with some describing the man as a "true talent",
Others thought his rather odd method of marketing his shoes means they must be "really good".
Some said the quality of the shoes and the way they are being marketed was worth the shopping trip alone.
Well, it's at least worth a watch, take our word for it!
---
Happy Chinese New Year!
And finally... Saturday is Chinese New Year and it's the year of the Rooster so what better way to celebrate than with silly chicken dances.
First there is a group of dancing chickens performing outside a public mall...
And then a local artist performing a "Spiritual Chicken Dance".
The cheer seems to be contagious as even the People's Liberation Army soldiers joined in with a video was shared on the military's official newspaper PLA Daily.
And finally, a video website has proudly claimed the "Chinese chicken dance" has been "sweeping (across) Europe and the US".
Happy Chinese New Year!
Additional reporting by BBC Monitoring's China team
---