Pakistan's online war and #ThankYouTrump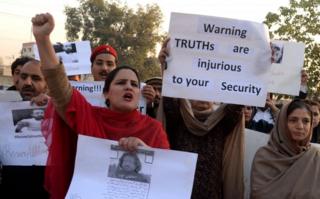 Small victory for liberal Pakistani online activists and anti-Trump users make their voices heard on campaign supporting him.
TV show ban gives little hope to online liberals
Liberal online Pakistani activists have welcomed a ban on a TV programme hosted by controversial cleric Aamir Liaqat. But they know this is just a small victory.
One post expressing gratefulness for the "important" step and calling for "all forms of hate speech" to be banned, echoed the views of many.
Liberal social media voices have been dwindling in Pakistan due to a virulent hate campaign by right-wing accounts which is in large inspired by comments Liaqat and other hardliners air on their shows as well as online.
The latest round of hatred came in the wake of the disappearance of five prominent rights activists and has been mainly directed at liberals who want the activists to be found.
Commenting on Liaqat's show ban, prominent activist Jibran Nasir expressed relief, but added "we can rejoice when the missing come back home. Back to work!"
Nasir has faced the wrath of hardliners for his support for the missing activists. But his criticism of Liaqat who in turn described them as "blasphemers and traitors involved in propaganda" against Pakistan has brought further hostility.
"We are #AmirLiaquat so think again," said one angry user.
But Nasir is not the only one feeling the heat. A number of liberal social media accounts have been deleted or have changed the content they are publishing following the hate campaign.
One example is the Facebook page "Bhensa", which was reportedly run by one of the missing activists but has now been taken over by a group called the "Elite Cyber Force of Pakistan" and is posting anti-liberal messages.
"All blasphemous and offensive material has been removed. Pakistan & Islam Zindabad ['Long Live Pakistan and Islam']", the 'about section' on the page now reads.
Liberals have so far remained defiant continuing their campaigns both online and offline.
But they don't look too optimistic. A Facebook page which opposes Pakistan's blasphemy law and makes comics mocking hardliners warned its followers earlier this week:
"The demise of this page is imminent, be it due to authorities or our complete lack of creativity. Download our comics before it gets taken down and do whatever you want with them. Remember why we did all this."
Seems prophetic, the page has now disappeared.
Additional reporting by BBC Monitoring's team in Delhi
---
ThankyouTrump hijacked?
Yes, #ThankYouTrump has been a worldwide trend, but not all its tweets are "Thank yous".
The hashtag which appears to have been initially set up by supporters of US President Donald Trump has been attracting much of his detractors as well.
Those in favour of Mr Trump took to social media to express their happiness about his first week in office.
Thanks for "putting ALL Americans first!", "giving us a renewed sense of hope" and doing "more to help this country in two days than Obama did in two terms", was the sentiment dominating the pro-Trump camp.
But others were not as impressed and they made sure their views were visible on the hashtag.
"#ThankYouTrump for giving me ZERO faith in your capabilities to run this country. You have the actions of a fascist tyrant," said one post.
Another sarcastically thanked the president for his "war on facts & free expression."
While some felt they had "absolutely nothing" to thank their new president for.
---